Call Center
4 reasons why Virtual Agent optimizes call centers of businesses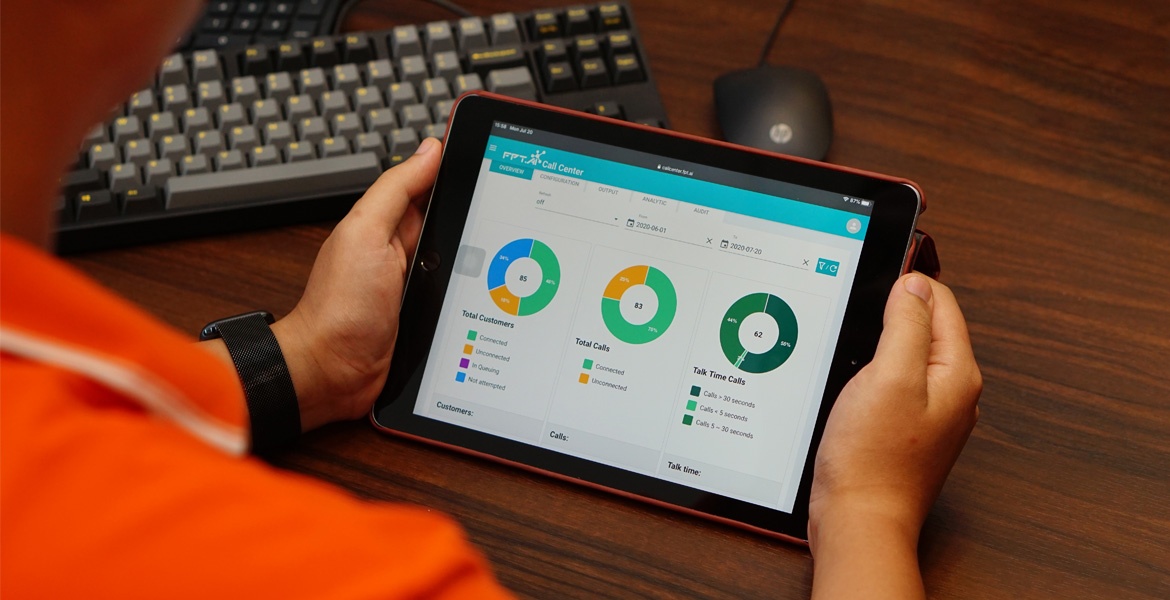 In the era of information technology blooming, everything moves fast, and customers keep demanding a higher quality of services/products. This demand is hard to meet even for the most qualified consultants. Therefore, call centers need advanced, modern "heavy weapons" to save costs, reduce human resources, and bring exciting experiences to retain customers.
Here are 4 reasons why Virtual Agent helps businesses optimize call centers for customer service:
Virtual Agent for Call Center performs a specific professional task
In traditional call centers, each consultant can handle 1 or dozens of different problems for customers. However, to fulfill its duty, Virtual Agent for Call Center should be designed to handle one, or a maximum of 2 tasks. This is because the Virtual Agent can hear and understand the intentions of users better in a specific and clear context, thereby giving accurate responses to them.
Some tasks that Virtual Agent can support in each industry/field are:
- Finance-Banking, Insurance, Stocks: Welcome new customers, Survey customer service quality, Remind payment schedule
- E-Commerce and Retail: Confirm Delivery, Confirm Warranty, Receive Complaints
- Sharing service: Confirm booking, Confirm delivery
- Transportation, tourism services: Confirm reservation, Confirm booking information
- Digital content service: Confirm transaction
Virtual Agent helps optimize human resources
Integrated with Voice recognition technology, Speech synthesis and Conversation management based on Artificial Intelligence, FPT.AI Virtual Agent for Call Center can receive inbound calls, make outbound calls or mix them according to scripts to reduce the workload for agents. When Virtual Agent undertakes repetitive, time-consuming and laborious tasks, consultants have plenty of time to handle highly specialized tasks and focus on pleasing the most demanding customers.
In fact, the intelligent Virtual Agent of FPT.AI has boosted 40% of the call center's performance and reduced operating costs by 50% for a business in the consumer finance industry within 6 months of deployment. Virtual Agent for Call Center can receive and handle 98% of calls within the first 5 seconds, work 24/7, support hundreds of customers at the same time. As a result, this business has eliminated system overload, especially during the period of social distancing due to Covid-19 pandemic, many employees had to quit their jobs or work from home.
Virtual Agent for Call Center helps automatically do statistics and manage call quality
For traditional call centers, the statistics and evaluation of call quality as well as the quality of consultants are not comprehensive. To check the service quality of agents, managers will randomly select some calls, and the time needed for listening is 10 - 30 minutes. It is almost impossible for managers to listen and check all the calls, so the evaluation is not objective and complete. This is also a difficult problem that many businesses can not solve.
However, there is a tool that can automate 100% of the quality control process and send daily reports on 100% of calls. That tool is integrated into the FPT.AI's Virtual Agent for Call Center.
Unlike the traditional statistical method by which businesses only take randomly a few calls as a sample for analysis, Virtual Agent for Call Center will analyze data from all inbound and outbound calls. Data will be digitized and reckon up in real time, giving managers a comprehensive overview of all calls, all customers.
In general, building an effective call center system that brings advantages, revenue for businesses requires continuous improvement and development from managers, especially in the integration of new technologies to support call centers. Do not let enterprises' call centers become obsolete in the digital world. Let's THINKING - THINK NEW about call centers with FPT.AI right now at bit.ly/2Y5o1ep
------------------------------------
👉 Experience the #FPT_AI products at https://fpt.ai/en/
☎ Hotline: 0911886353
📩 Email: support@fpt.ai