Call Center
AI-based Virtual Assistants powerfully support The Global Healthcare Industry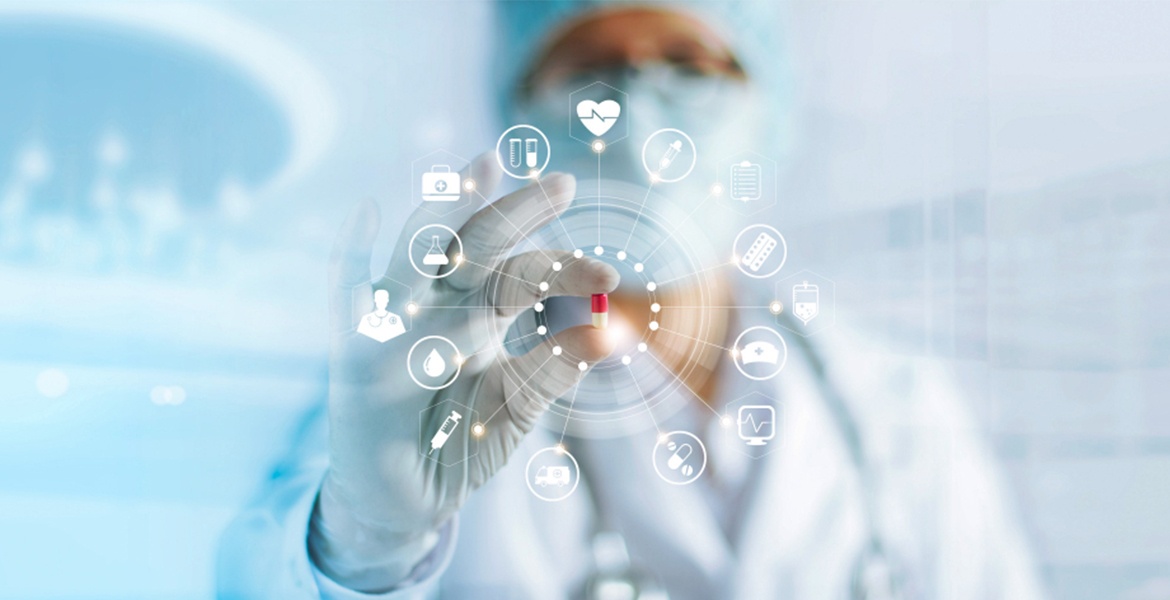 The reality of AI-based virtual assistant implementation around the world
At the beginning of the 3rd quarter of 2021, Korea conducted a large-scale Covid-19 vaccination. The virtual assistant Clova CareCall, developed by Naver Corporation (the top technology corporation in Korea), was piloted, and it made millions of calls to elders in Jeonju city to ask about their health conditions after their vaccination. Then Clova CareCall was quickly implemented broadly across other cities in Korea.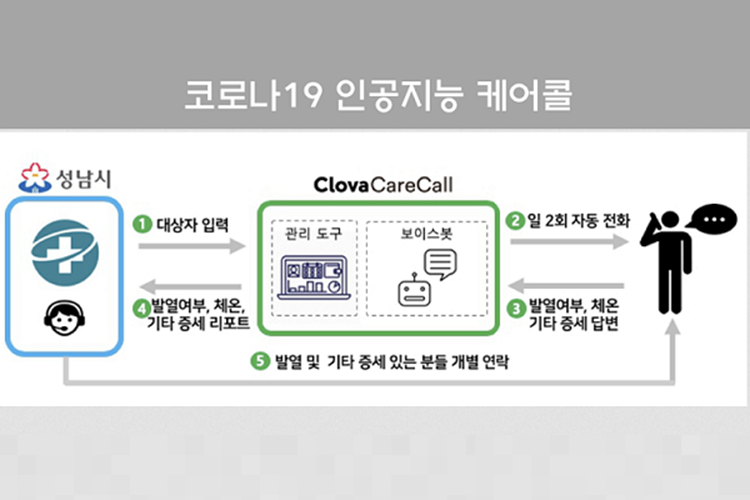 Clova CareCall used the databased setup by Naver and the city government to make automated calls to people aged 75 and older after their vaccination. If its citizens have health problems, the medical team will connect with them to identify the severity of their side effects. If necessary, they can schedule an appointment with doctors. Tracking health conditions after vaccination is crucial, especially for elders, or those who are already living with diseases. Instead of a huge workforce to make thousands of calls every day, Clova virtual assistant performed as a hard-working medical supporter to proactively screen symptoms and ease the burden of the healthcare system.
Naver's spokesperson said: "There is a huge workload of repetitive tasks, and the AI-based virtual assistant can make hundreds of calls at the same time. This is an advantage in productivity for the pandemic prevention."
In summer 2020, iFlytek - a large tech company in China - also worked with local governments in Korea and China to run an AI-powered tracking program. Clova is not the only voice-based AI assistant provider to have a trial run of this program. In August 2020, Seoul and IBM Watson launched a virtual assistant to conduct a survey of the pandemic's impact on people's lives. The virtual assistant and survey are part of the "I Care You" project by Seoul which aims to improve future policymaking.
The need for virtual voice assistants in healthcare has not only appeared within Asia. Wolters Kluwer Health, a clinical technology provider, integrated a feature into Alexa to remind patients to answer questions about their health conditions after discharge. In May 2021, Orbita (USA) launched an AI-powered system to approach and communicate with citizens through various means such as messages, emails, or calls to ask about their health.
FPT.AI Healthcare Virtual Assistant accelerates pandemic prevention and control in Vietnam
In March 2021, when the Covid-19 pandemic dangerously spread quickly, the National Steering Committee for Covid-19 Prevention collaborated with FPT.AI to urgently implement Healthcare Virtual Assistant in the call center 18001119. FPT.AI healthcare virtual assistant has made more than 2.6 million calls to screen F0 in high-risk areas. In a short time, dozens of call scenarios were built, helping the virtual assistant to handle many tasks of a medical supporter, receiving and processing thousands of requests at the same time without interruption.
Healthcare Virtual Assistant support Covid-19 prevention and control in three stages: Suspected infection, Treatment, and Post-infection recovery. With this model, patients can:
Proactively declare their medical conditions through conversations
Ask about common symptoms
Easily access to home treatment guidelines of the Ministry of Health 24/7
Connect with medical teams and local teams in urgent situations
Ask and consult people after discharge.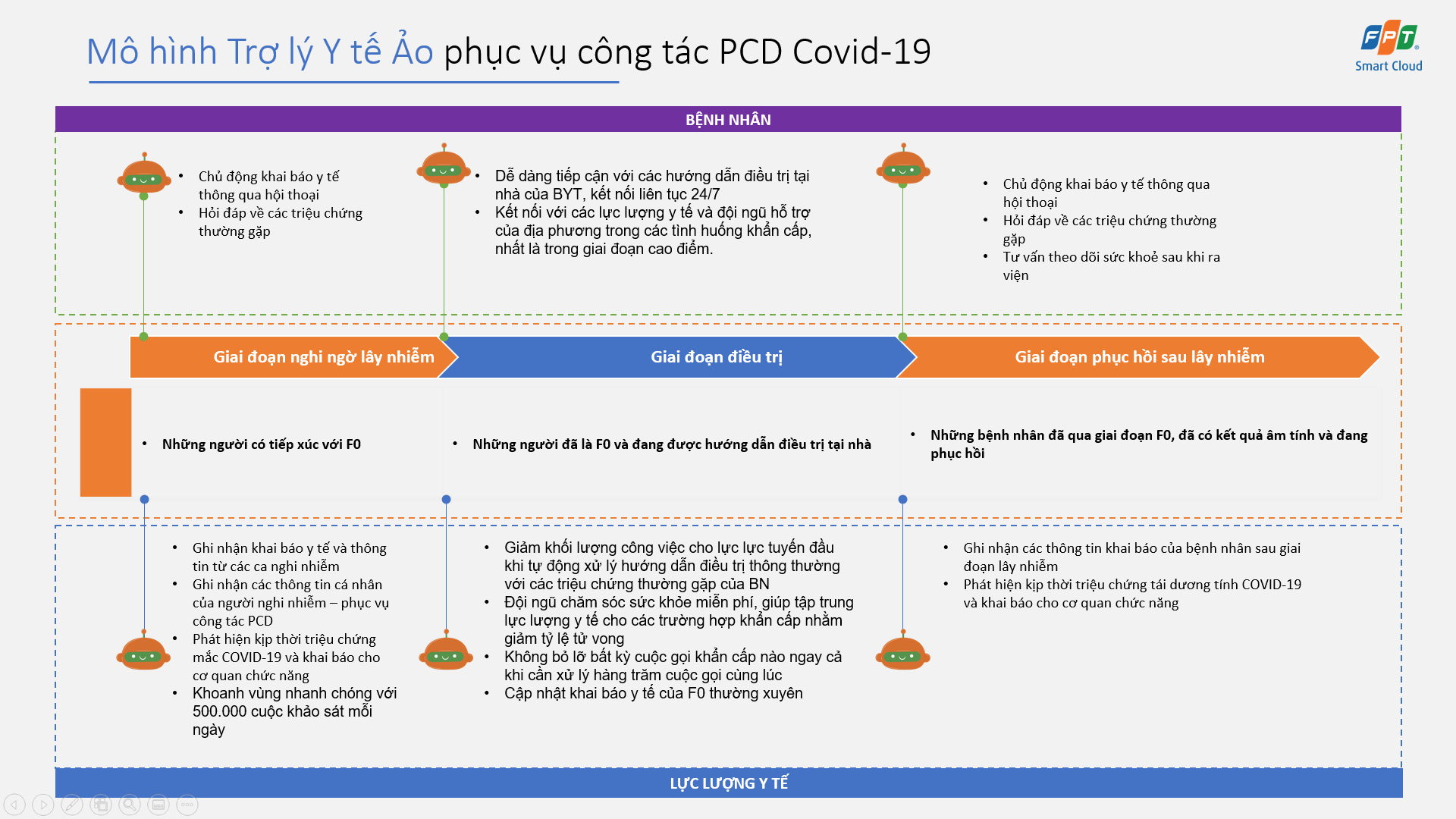 The pandemic prevention model includes 3 solutions:
The screening assistant Fx in high-risk areas automatically detect Covid-19 symptoms and timely report to medical facilities through the call center 18001119
The smart conversational assistant supports patients to continuously access home treatment guidelines 24/7 without interruption even in rush hours.
The assistant for call center 1022: Support medical teams on the hotline to receive and answer declaration call, record feedback on the prevention situation in Ho Chi Minh City.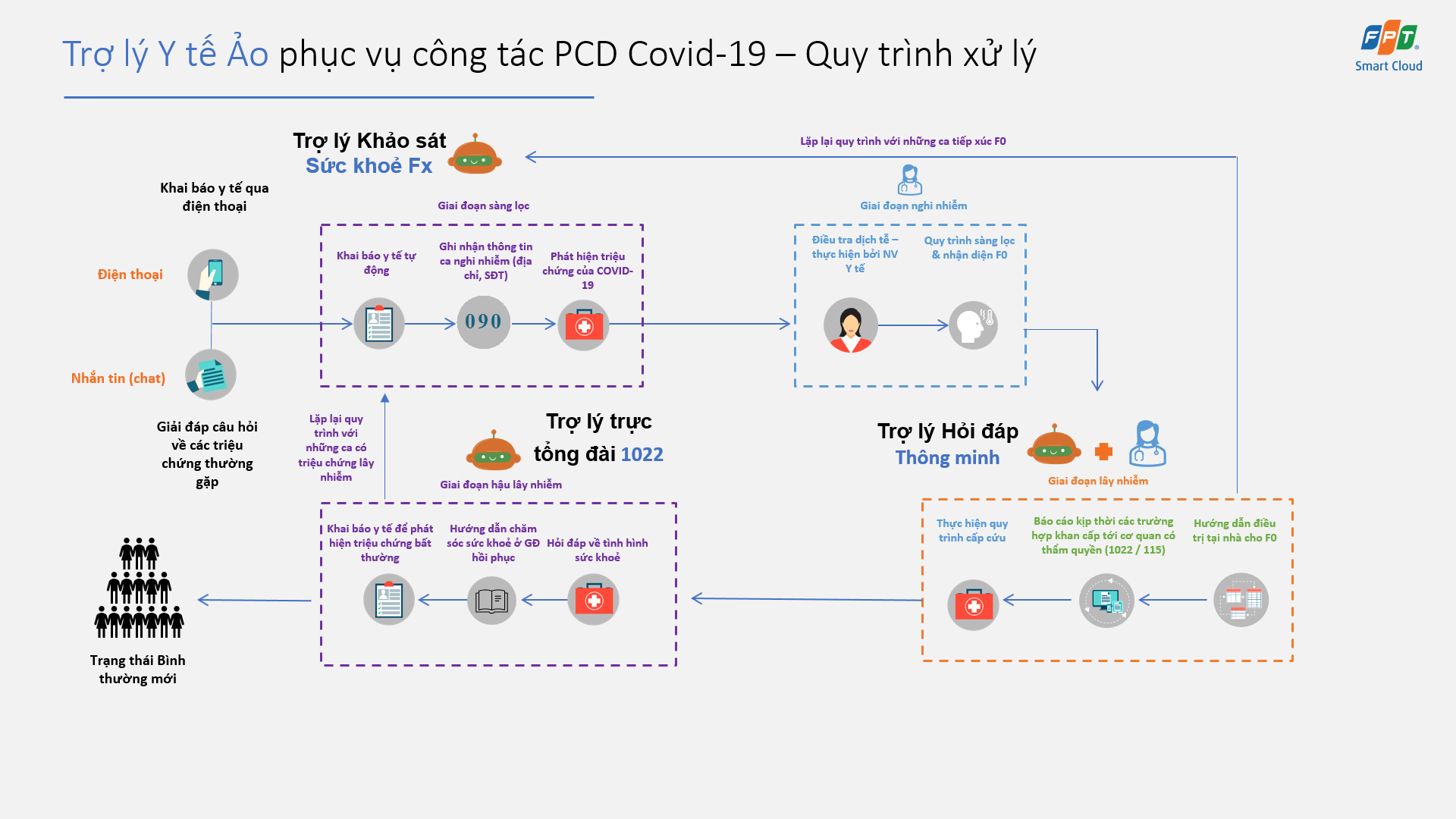 Information declared by citizens is recorded, collected and classified quickly, helping local governments have appropriate solutions. Adopting AI in Covid-19 prevention and control results in high efficacy, helping reduce the burden for the workforce and powerfully supporting the healthcare industry to control the pandemic.
Vietnam's healthcare has a talented and dedicated medical workforce. When adopting state-of-the-art technology solutions in the procedure of prevention - treatment - screening, Vietnam can quickly control the situation. In the near future, the healthcare industry will also experience digital transformation in order to provide convenient medical services to citizens. Voicebot virtual assistants will also become more popular to optimize human resources, reduce overload and modernize customer service in the healthcare industry.
-----------------------------------------------
👉 Experience other products of #FPT_AI at https://fpt.ai/vi
🏬 Address: 7th floor, FPT Tower, 10 Pham Van Bach Street, Cau Giay District, Hanoi///3rd floor Pijico Tower, 186 Đien Bien Phu Street, Ward 6 District 3, Ho Chi Minh City
☎ Hotline: 1900 638399
📩 Email: support@fpt.ai