Conversation
Building free chatbots for customer service
"It takes months to find a customer and only seconds to lose one". And what is the fastest way to lose customers? Providing them a bad customer service experience.
Modern consumers love convenience, speediness and expect 24/7 services. But most businesses cannot have a huge human resource that is available every time to support customers. Even if they can, it will take so much cost. So how to solve this difficult problem?
Chatbot was born based on practical needs. Businesses can use chatbots to perform many tasks, from consulting, filtering potential customers to selling, etc. Chatbots are mostly used to provide customer services which can be flexibly adjusted according to various needs of businesses. The outstanding strength of chatbots is that businesses do not need a large budget for human resources, space rental, working equipment, and professional engineers. Businesses can easily set up a chatbot through bot creation platforms that have a user interface.
The most advanced chatbot creation platform in Vietnam today must include FPT.AI Conversation. FPT.AI is the most excellent Artificial intelligence platform with the award "Make-in-Vietnam digital product" 2020 by the Ministry of Information and Communications. FPT.AI Conversation has the Natural language processing technology that is specialized for Vietnamese enterprises.
Why should businesses use chatbots for customer service?
1. Chatbots help save time, money and resources
Chatbots cannot replace human customer support teams completely. However, a chatbot is a great tool to automate handling common and repetitive requests to save time, boost productivity and efficiency of your businesses. A chatbot which is well built can automate up to 80% of responses to common questions and instantly support customers 24/7.
2. Chatbots provide professional, synchronized service
A chatbot for customer service can handle thousands of customers at the same time and at any time. As long as questions are in the predetermined topics, chatbots will provide a consistent, helpful and friendly experience to users every time.
Chatbots have the ability to remember context and information provided by customers. Therefore, chatbots can bring seamless conversation to users.
3. Chatbot can take on a wide range of tasks
After chatbots answer customers' questions, they can offer support for other problems. Chatbots built on FPT.AI Conversation can be used to send broadcasts to all customers or a specific group of customers.
FPT.AI Chatbot also have the feature to automatically inbox customers when they leave comments on fan page posts, helping businesses to optimize the process of taking care of customers.
Moreover, FPT.AI Chatbot can be set up with the order feature. Customers can order what they want through chatbots right when they are in the conversation. Chatbots can perform the complete order process, helping customers from choosing the right products to providing addresses and paying their bills. Shopping on e-commerce platforms is becoming easier and more convenient with smart AI chatbots.
Besides, after the first purchase, chatbots will become enthusiastic supporters for customers in the future, providing them suitable promotions, discounts, nurturing loyal customers of businesses thoughtfully.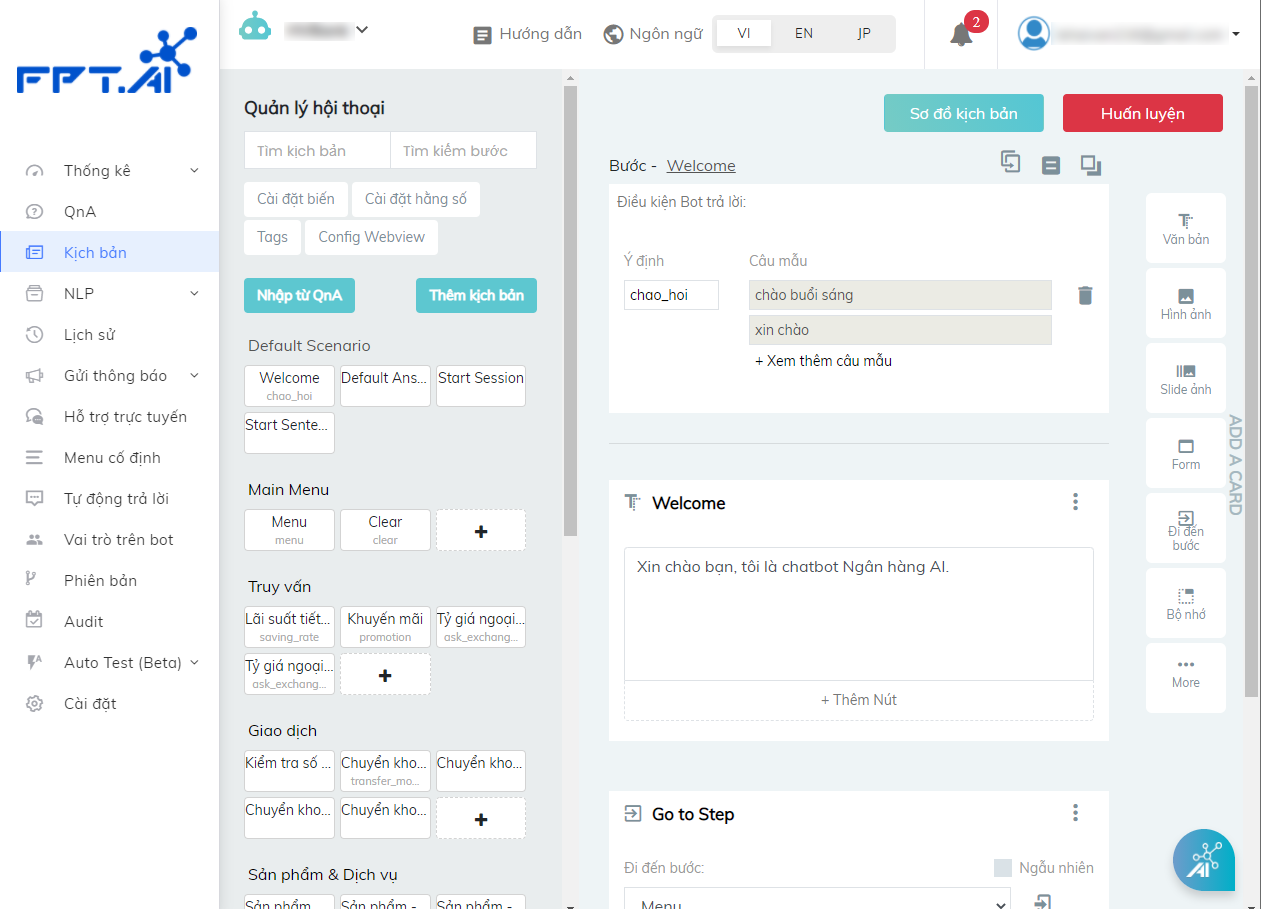 The user interface of FPT.Conversation platform with drag and drop actions that create steps quickly.
4. Chatbots work with all scales of businesses
Businesses do not need a team of technology experts to build chatbots. FPT.AI Conversation is an open platform, which means anyone, any business, from large to small businesses, can create a chatbot themselves to perform the tasks they need.
Especially in small and medium enterprises, online sales pages on websites, Facebook fan pages or Zalo pages do not need too many advanced features. The main purpose of these businesses is to answer frequently asked questions from customers, which are information related to products/services such as price, color, size, shipping fee, delivery time, warranty/return policy, etc. With simple drag and drop actions, you can effortlessly create a chatbot with basic features on FPT.AI Conversation (https://bot.fpt.ai/) in one afternoon.
See the detailed instruction on creating a chatbot at: https://docs.fpt.ai/docs/vi/conversation/documentation/introduction
--------------------------------------------------
👉 Start building a chatbot right now with the chatbot creation platform FPT.AI Conversation: https://bot.fpt.ai/
☎ Hotline: 0911886353
📩 Email: support@fpt.ai