Conversation
Chatbot completely resolves 3 problems of businesses
Over the past decade, the global consumer market has been experiencing leaps of technology applications in every industry – field, along with the increasing need for convenience and accessibility in the purchasing experience. The transformation of business models with advanced technology solutions, especially smart Chatbot, has attracted more loyal customers and given businesses advantages over competitors.
According to Accenture's statistics, modern customers spend over $600 billion each year on consumer goods. With large consumption capacity, this generation mainly uses social media and the Internet to connect and exchange information. Besides, they also have rigorous requirements for buying experience. They want strong, personalized, convenient, and especially real-time connections. AI Chatbot was born helping businesses optimize their connections with customers through the Internet and social media, becoming the main communication channel between businesses and customers.
What is AI Chatbot?
AI Chatbot is a Chatbot with Artificial Intelligence (AI) that can communicate with users by natural language.
Basically, AI Chatbot works like an auto reply machine. Like an auto reply machine, AI Chatbot can identify questions immediately and give answers in real time. However, unlike auto reply machine, Chatbot communicates with users through text on popular messaging platforms such as Facebook Messenger, Livechat on websites, mobile apps, Zalo, Viber, etc
Today, Chatbot integrated with Artificial Intelligence can handle many more complex questions/operations, thereby bringing a more realistic experience. More and more customers come to Chatbot as the first solution when they want to reach businesses. Below, FPT.AI suggests 3 problems that businesses can apply AI Chatbot to optimize operation.
Problem 1: Speedily service in real time
According to Forrester, 73% of customers said that time is the most important factor when evaluating service quality; 53% of customers will stop purchasing online if their questions/requests are not received and responded immediately. The lack of human resources to reach, support and respond quickly is one of the biggest challenges of modern customer service. Customers want to be supported promptly, or at least listened to and received no matter it is outside of working hours or public holidays.
Smart Chatbot can solve 90% of this problem. Like an auto reply machine, Chatbot responds to customers instantly 24/7/365 following predetermined scenarios. Businesses just need to build scenarios for frequently asked questions or tasks that customers usually ask for. After that, when customers have requests, Chatbot can take care of all of them immediately following a process accurately even if it is 2 am. This is a wonder for many businesses that do not have a customer support system 24/7.
AI Chatbot with a proper design can even handle tasks such as making an appointment, locking card, looking up order status without any help from human supporters. Therefore, your agents can focus on more personal, complex requests such as customizing product design or providing in-depth consultancy to premium customers.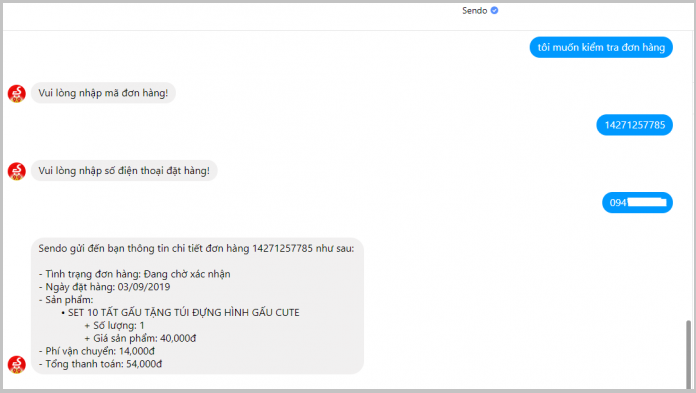 Photo: Chatbot of Sendo created on FPT.AI Conversation platform can support customers to look up order status.
Problem 2: Prevent and solve common problems
The best way to solve all problems of customers is to prevent it from the beginning. However, if it was easy, companies would not invest 350 billion dollars each year in customer service. So how can businesses prepare for common problems of customers and eliminate them in the first place? Many businesses have built a process to handle these problems and satisfy customers. However, in a large organization of supporters independently serving many customers at the same time, supporters may recognize situations slowly or may not follow the process.
AI Chatbot makes this high-level customer service strategy practical by tracking, collecting and analyzing data from every interaction with users. As a result, administrators can work with their teams and other department heads to prevent common problems, save valuable time of supporters, as well as bringing a more positive customer experience.
AI Chatbot on FPT.AI Conversation platform can collect data from all conversations with users and provide statistical reports every day. In these reports, administrators receive important statistics such as the number of requests each day, the most common requests, the number of new users each day, when most customers use Chatbot, etc. Therefore, businesses can make assessments and adjustments in building scenarios for Chatbot.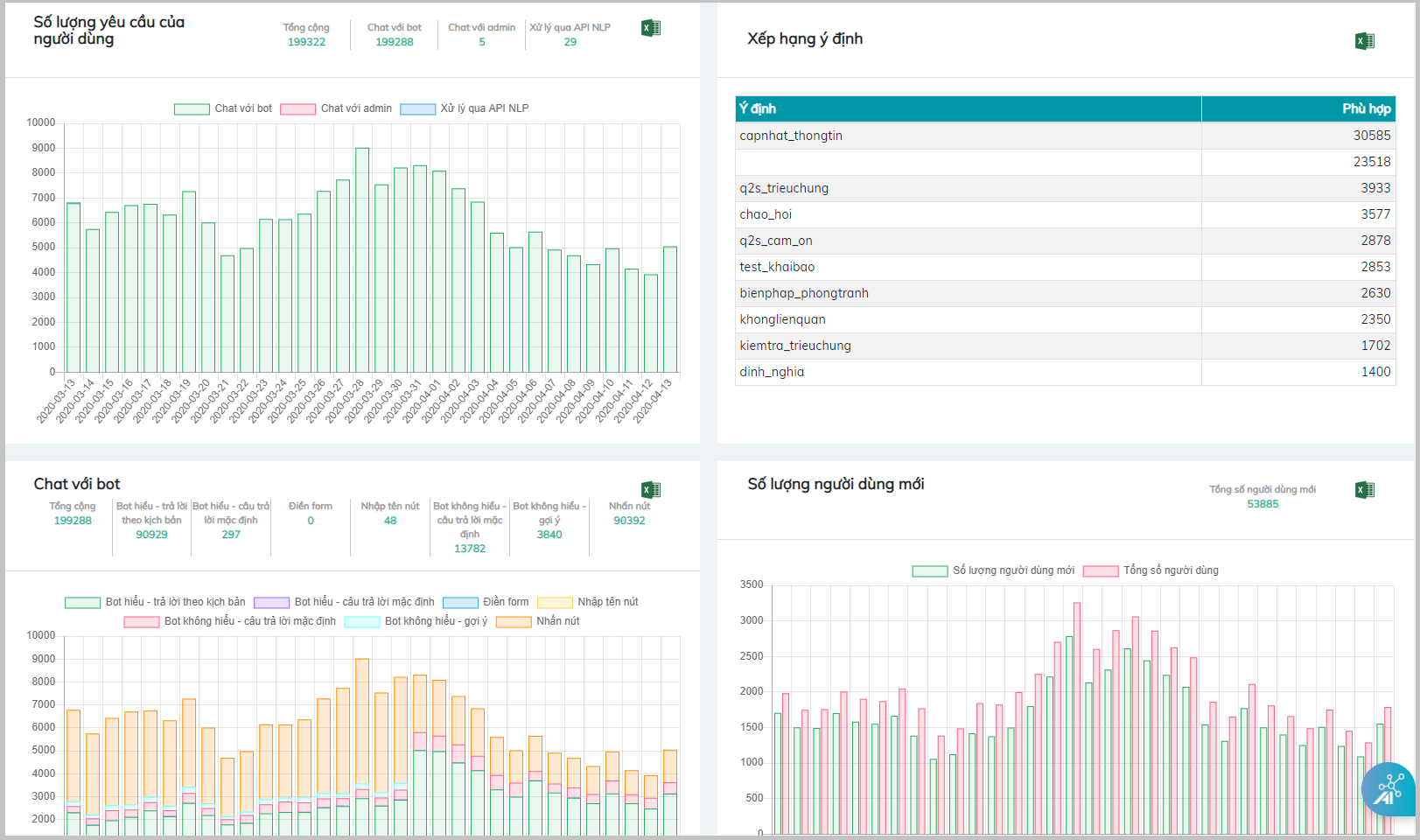 Photo: Covid-19 prevention virtual assistant of Ministry of Health conducts statistical reports every day.
Problem 3: Be available everywhere
With the development of technology, customers want to connect with businesses in many ways, and 68% of surveyed users prefer messaging platforms. Customers want to experience seamless services without opening other windows, picking up phones or leaving home. In short, they want customer service to be available and support them everywhere.
AI Chatbot is the solution to this problem. Chatbot is built once on Chatbot creation platforms, then deployed everywhere and every communication channel of businesses. Moreover, Chatbot built on FPT.AI Conversation platform can be integrated into many popular messaging channels such as Facebook Messenger, Zalo, Viber, Webchat, etc., or any conversational interface of businesses. Therefore, customers can reach businesses through any channels to receive seamless, speedily support from Chatbot.
With cloud computing technology, FPT.AI Chatbot helps businesses to scale up or down depending on business growth, support from thousands to millions of customers each month without any effect on the productivity of machines.
In Vietnam, FPT.AI Conversation is the Chatbot creation platform with Artificial Intelligence optimized for multiple languages, especially Vietnamese, English, Japanese. As a product in the set of digital transformation solutions of FPT, FPT.AI Conversation is the leading solution that gains the trust of many large Vietnamese businesses, especially in Finance – Banking, Retail, Insurance, E-commerce industry. FPT.AI aims to provide comprehensive Artificial Intelligence solutions, thereby creating breakthroughs for business models.
--------------------------------------------------
? Start building chatbot with chatbot creation platform FPT.AI Conversation https://bot.fpt.ai/
☎ Hotline: 0911886353
? Email: [email protected]