Conversation
Chatbot Nira – The Diligent "Virtual Employee" of NCB Bank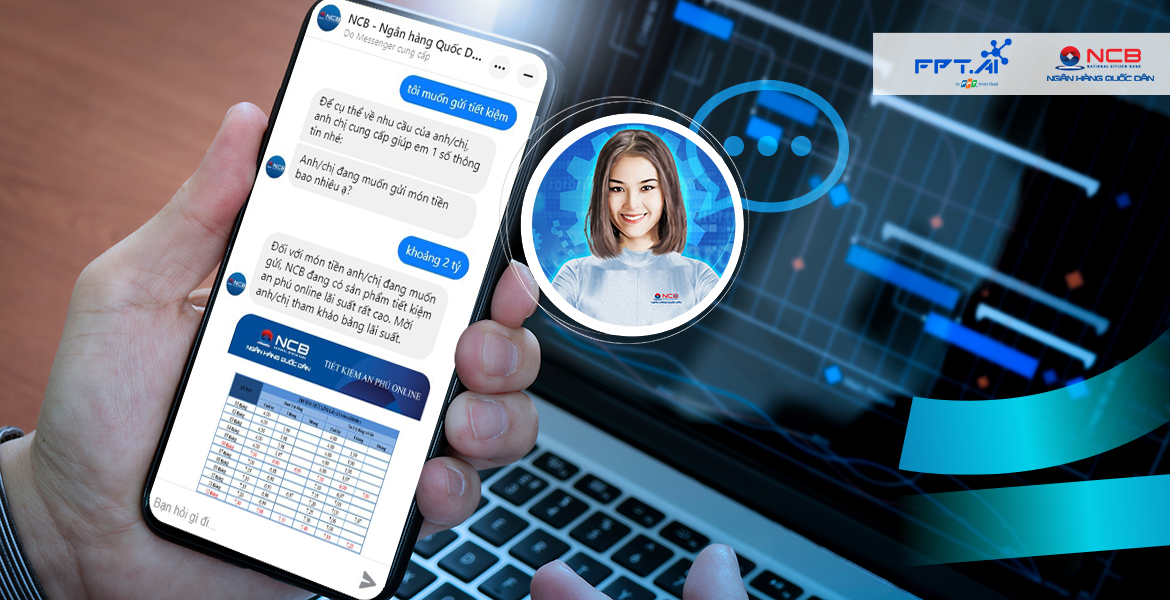 With the priority of convenient services for customers, National Citizen Bank - NCB is one of the first banks to deploy a chatbot since 2019, aiming to automate customer support services on multichannel. Up to now, NCB's chatbot Nira has been regularly supported in the automatic processing of more than 50% of customer requests per month.
Established in 1995, after 25 years, National Citizen Bank - NCB has gradually affirmed its brand position in Vietnam's financial and money market. In order to meet the increasingly demanding market and maintain its position in the fiercely competitive environment, National Citizen Bank has restructured the system and promoted the application of advanced technology solutions to improve customer service.
Every month millions of NCB's customers ask about savings plans, or ask for support and answers about services, products, etc. These FAQs seem simple, but it takes a lot of time and resources. Besides, the customer base is getting younger, and they love to be served instantly and on multichannel. Grasping technology trends and wishing to provide customers with the best banking experiences: fast - safe - convenient, National Citizen Bank (NCB) has cooperated with FPT.AI to build and develop chatbot Nira - an online customer support tool that works 24/7 based on FPT.AI artificial intelligence platform. In 2019, NCB used FPT.AI's chatbot as an effective employee for the campaign "Chat with Nira - Free data". Nira can provide information and guide customers through each step to receive a free 4D data package. The whole process took place automatically on Facebook Messenger and NCB's official website live chat without human involvement. However, Nira will help customers connect with consultants when needed to help answer their queries. Chatbot Nira has helped NCB save costs of personnel and bring an interesting experience to customers.
Over the last 3 years, chatbot Nira has served tens of millions of NCB's customers across different regions. Because it is built on the foundation of FPT.AI Artificial Intelligence, as well as equipped with many advanced technologies including Natural Language Processing (NLP), Emotion Recognition technology, etc., Nira chatbot can recognize know, understand, and automatically give the right responses to human requests.
Currently, Nira Virtual Assistant can instantly interact to answer many customers' questions about deposit services, such as interest rates, deposit terms, promotions related to savings plans, etc. When customers want to ask about savings, the chatbot will ask questions to explore more about the intended amount, savings term, etc. The chatbot will give customers a table showing interest rates according to the intended amount and in different periods, such as 3 months, 6 months, 1 year, 2 years, etc. Especially, with the amount and savings time customers provided, chatbot Nira can automatically and quickly calculate the specific amount of interest they can receive. Thanks to the 24/7 chatbot Nira, customers can interact with NCB anytime and anywhere.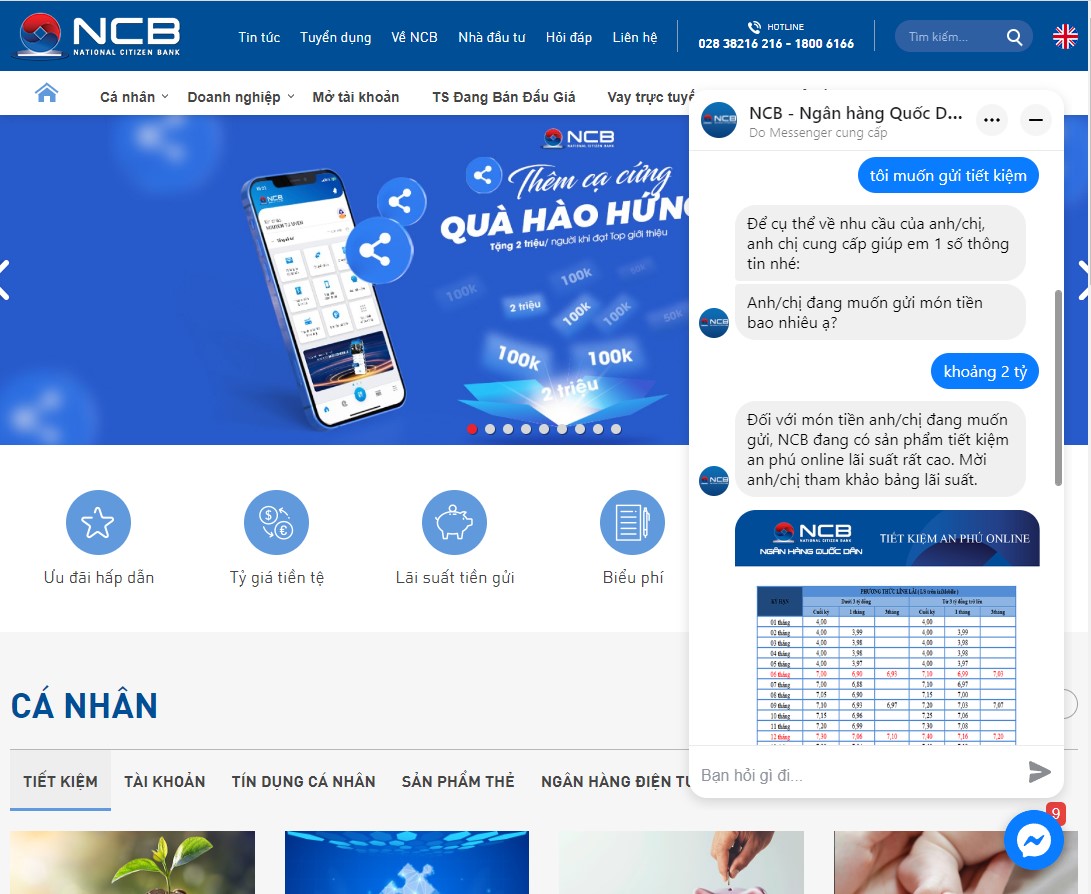 Every month, chatbot Nira supports tens of thousands of customers - accounts for more than 50% of the total number of requests from customers on messaging platforms, helping NCB streamline repetitive, time-consuming primary tasks and quickly support customers without much help from humans. Moreover, chatbot Nira is continuously trained each time it supports a customer, thereby becoming completed and supporting more tasks in the future.
NCB's representative said that the application of artificial intelligence is part of NCB's strategy for digital banking development, and this is a common trend around the world in order to create new standards in customer service. NCB currently implements Nira Virtual Assistant on both its website and fanpage to meet customers' need to interact on multichannel.
It can be said that the virtual assistant NIRA is a new step of NCB to affirm more strongly its investment in digital technology development throughout business activities, especially in improving the quality of customer service. This shows the importance of advanced technology adoption in customer service, which helps banks to build strong relationships with customers and create competitive advantages in the future.
-------------------------------
Get to know FPT.AI's chatbot at https: https://fpt.ai/vi/chat-bot-vi
Contact for consultant on FPT.AI's solution suite: https://fpt.ai/vi/lien-he
Hotline: 1900 638399
Email: [email protected]