Reader
Electronic Know Your Customer (eKYC) by FPT.AI - The revolution of digitalizing customer experience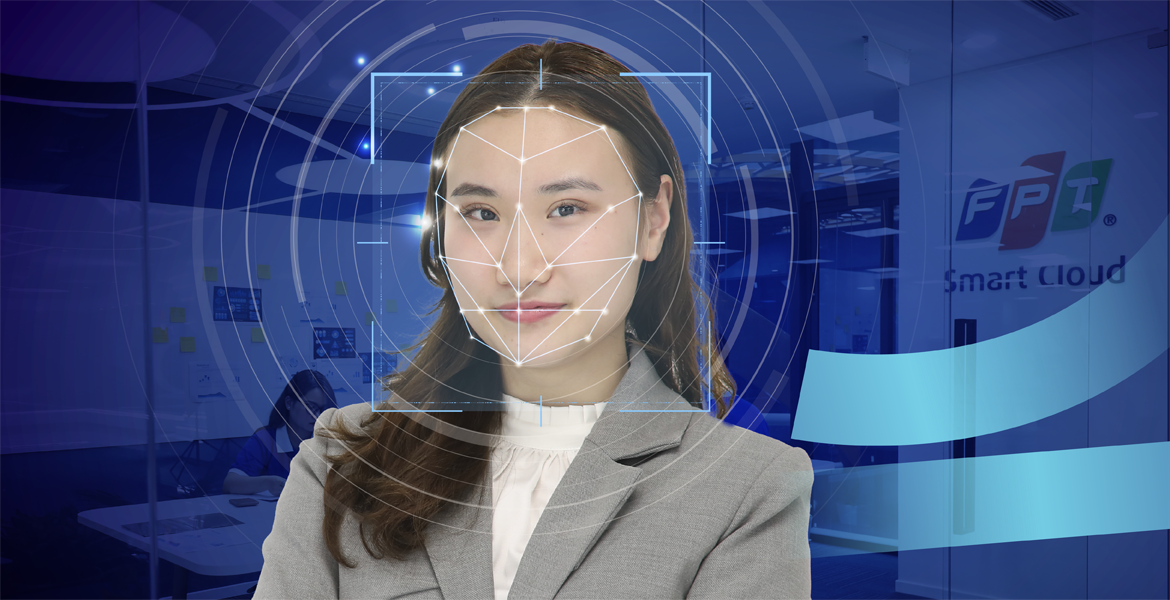 Though electronic Know Your Customer (eKYC) has just appeared in Vietnam for a few years, it quickly creates a revolution in the finance-banking sector due to double benefits: optimize costs, secure information, and enhance customer experience.
eKYC in Vietnam: Opportune conditions
Covid-19 acted as a catalyst for technology adoption, but even when Covid-19 could end, technology trends would still develop because customer behavior has been changing. Young customers today want instant experience, high convenience and easy usage at any time and anywhere. For banks and financial companies, providing an online account opening service is almost a must to attract young tech-savvy customers. To do that, implementing eKYC - electronic Know Your Customer - is the first solution that should come to mind before starting to digitalize customer experiences.
To create favorable conditions for Vietnamese businesses to implement eKYC, in 2020, the State Bank of Vietnam issued the circular 16/2020/TT-NHNH on opening and using payment accounts. In 2021 only, most of Vietnam's leading banks adopted eKYC technology, allowing customers to open accounts online in just a few minutes, simply and conveniently. Thus, it eases the pressure on bank tellers and reduces direct contact at traditional transaction offices.
It also points to the fact that every financial business must be a "tech organization" to maintain activities and stay afloat when a crisis hits. If businesses don't seize opportunities and promptly transform according to technology's inevitable movement, they will soon be left behind and lose their market share to young, active businesses integrating new technologies.
Due to its practical benefits, the wave of eKYC quickly spreads across many other industries, such as securities, insurance, e-payment, transportation, etc., and is positively received by customers. With eKYC, businesses have one more security layer, preventing fraud and information forgery as well as quickly digitizing customer data, thereby driving comprehensive digital transformation in transaction activities.
FPT.AI eKYC - New generation of electronic Know Your Customer
When more and more customers use online service 24/7/365, the issues of security, fraud prevention, data management, etc. become significant challenges for businesses. To resonate and increase strengths against competitors, the big question is which eKYC provider they should choose. In Vietnam's market, one of the leaders in grasping trends and implementing new tech solutions is FPT Smart Cloud, a subsidiary of FPT Corporation, with FPT eKYC solution. As a reputable tech company with profound experience and large scale, FPT Smart Cloud flexibly meets all clients' needs, easily integrates tech solutions into available systems, and operates stably.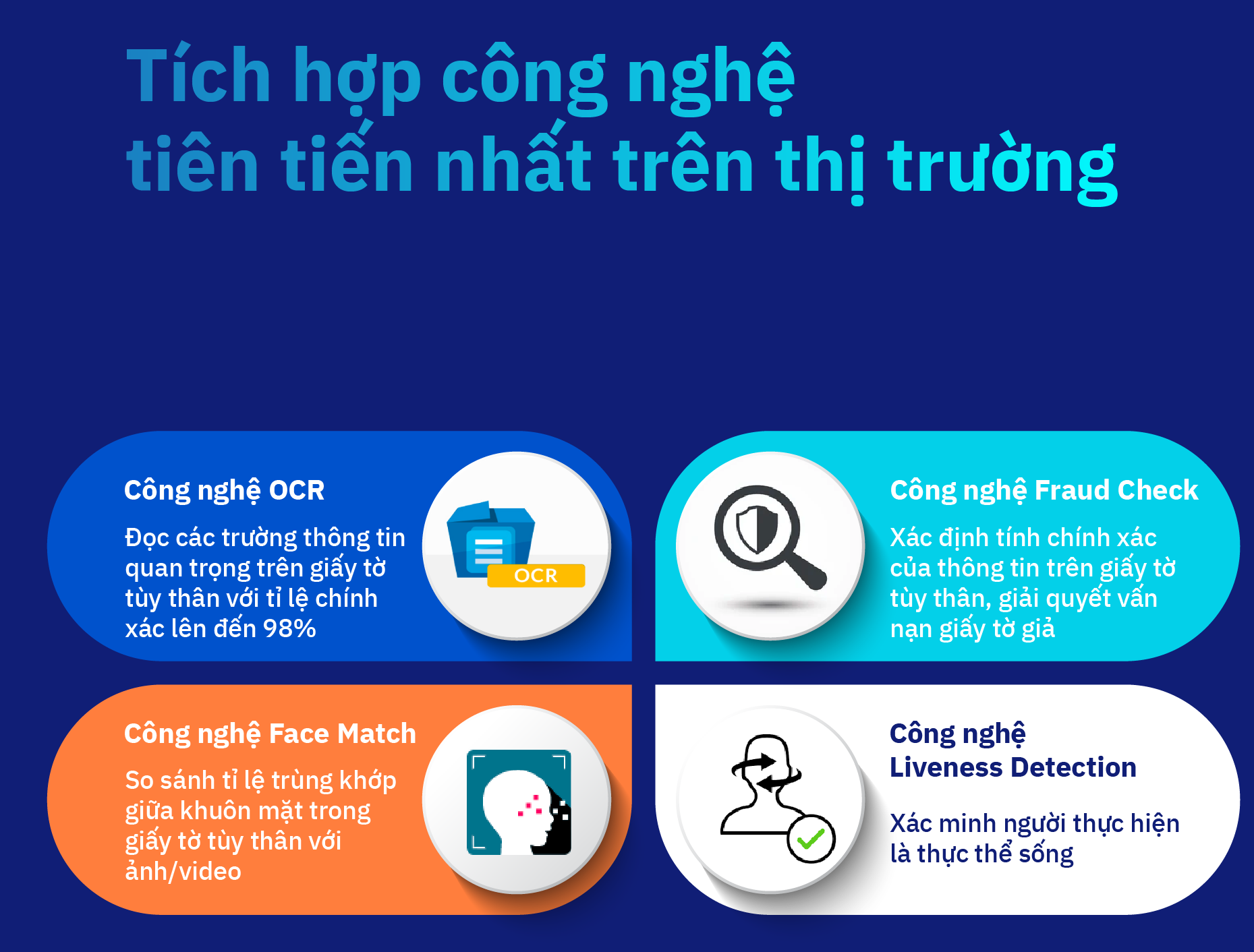 FPT. AI eKYC, having OWASP-standard security technology and anti-fake face technology with 2-level security, can quickly verify customer identity with high accuracy. On average, it takes only 2-3 minutes to complete an eKYC process, reducing verification time by 70%. Moreover, Frau Check technology helps authenticate information on identity documents, solving the problem of fake and edited information on these papers.
In July 2020, when the state allowed 10 large banks to carry out the eKYC pilot, FPT.AI became a provider for a leading retail bank in Vietnam. Only after 2 months of launching, this bank achieved impressive numbers, such as 15.000 new accounts, taking 50% of expected numbers in 2020, and it keeps increasing rapidly in 2021. Up to now, FPT Smart Cloud has been the eKYC solution provider for many domestic and foreign businesses which are leading financial organizations, banks, and securities companies in Vietnam, indirectly serving millions of end-users.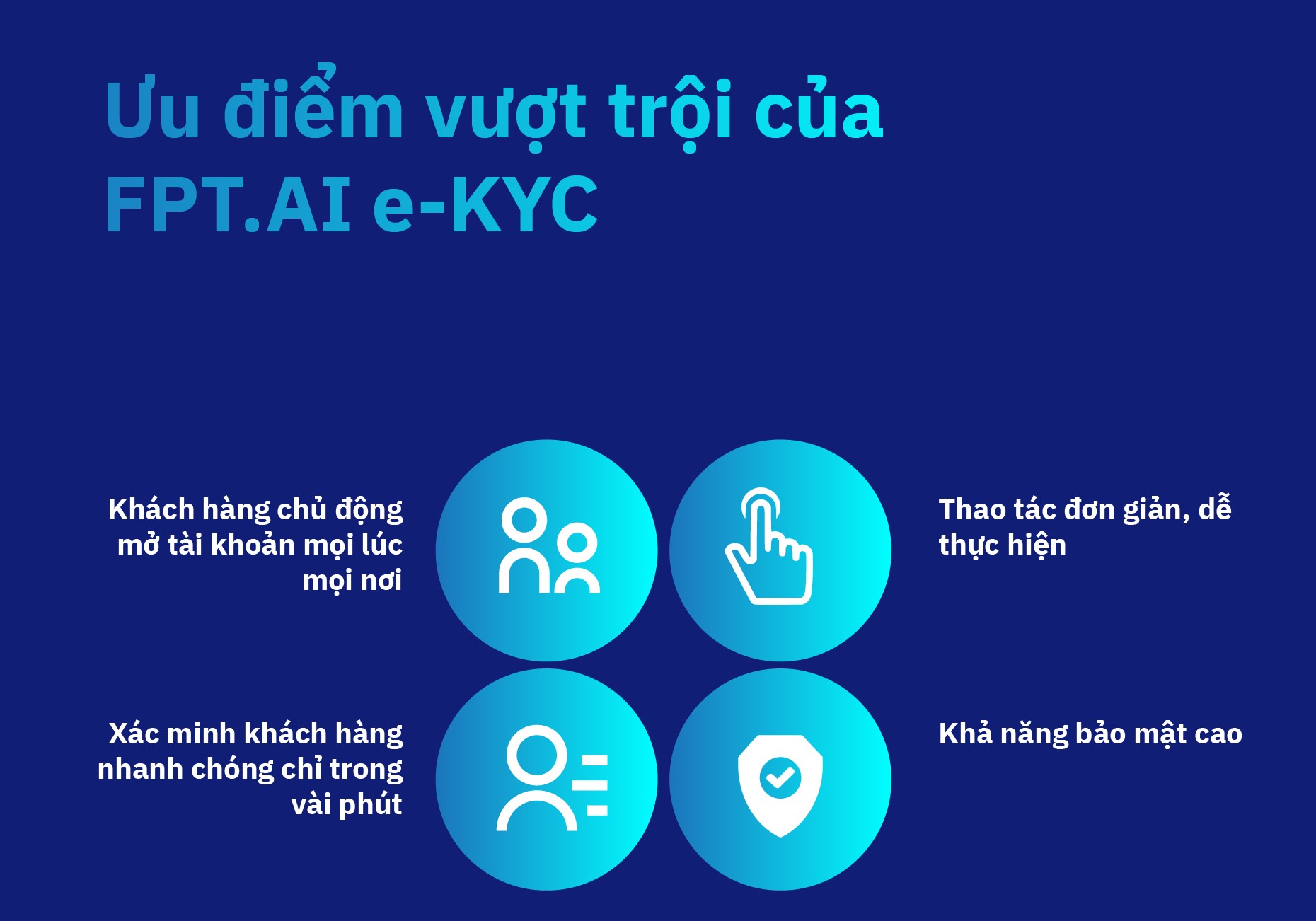 In the near future, eKYC can handle more than 90% of the manual KYC workload at banks and financial organizations. Customers can quickly open their accounts anywhere via mobile devices with an internet connection, eliminating traditional authentication processes, bringing a positive experience to customers. At the same time, the workload of bank tellers is reduced, helping businesses to optimize their human resources, and thus save operating costs and boost productivity.
Providing a fresh and positive technology experience is an advantage to attract customers in the digital age. Choosing FPT.AI eKYC solution, leveraging technology strengths is the first step of businesses to win customers and create breakthroughs in the future.
----------------------------------
👉 Experience other #FPT_AI products at: https://fpt.ai/vi
🏬 Address: 7th floor, FPT tower, 10 Pham Van Bach, Cau Giay district, Hanoi
☎ Hotline: 1900 638 399
📩 Email: [email protected]