FPT Chairman talks with the AI "Godfather"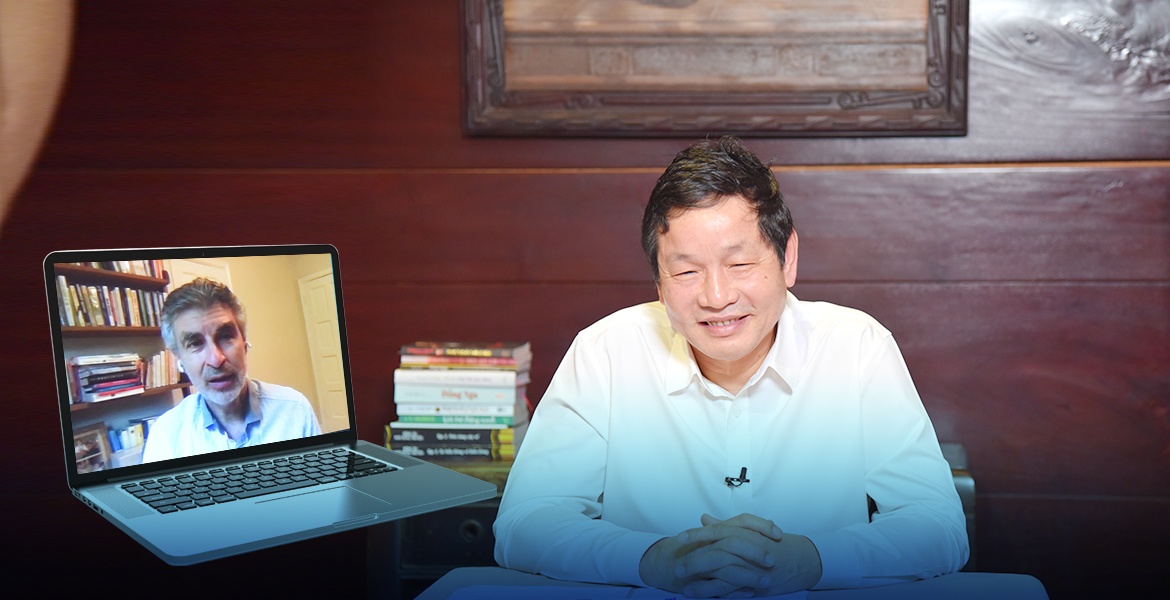 Mr.Truong Gia Binh, FPT Chairman, shared his dream and AI ambition with Prof.Yoshua Bengio, the leading AI scientist in the world.
Professor Yoshua Bengio is a Canadian known as "AI Godfather" since he is one of the scientists laying the foundation for artificial intelligence, as well as a pioneer in Deep Learning. In 1993, he established Mila - Quebec AI Institute, which becomes the global center for scientific advances, especially for AI. In 2018, he received the Turning Award - which is referred to as the Nobel Prize of computing. In 2021, Bengio is the most cited computer scientist in the world according to Guide2Research.
The conversation between Mr.Truong Gia Binh, FPT Chairman, and Prof.Yoshua was carried out online in FAIC 2021 held by FPT on 17-21th of August.
AI technology helps fight against the pandemic
Prof. Bengio shared that at Mila Institute, like many other places, experts are putting their effort into AI, Machine Learning Research, and application to help fight against the pandemic.
"It was a lot of pressure, but it also brought a lot of excitement and valuable experience. We have learned many things, for example, how to use AI to discover new drugs or ingredients for drug production or solve some optimization problems that we are facing in the community. And I also realized the importance of coming together across the planet to meet global challenges like the pandemic or climate change, which is the only way we can overcome these challenges."
Sharing the same view, Mr.Binh said that FPT was also using its AI research and applications to support prevention, screening, contact tracing, and medical isolation instructions, helping to increase the efficiency of contact tracing teams, reduce workload for the health system, and improve treatment results.
"It's amazing how AI can serve and save human's life. We are proud of what we are doing now," said Mr. Binh.
Being asked if AI can help predict the pandemic situation, Prof.Bengio affirmed that we can, but there will be many complicated pieces of research, such as analyzing genomes of Covid-19 virus variants to predict potential new variants, thus develop effective vaccines and drugs even before they spread out. "This is actually serious research that is going on, and I think AI can be helpful but it cannot be used alone. We need human intelligence and scientists in many areas of knowledge," he said.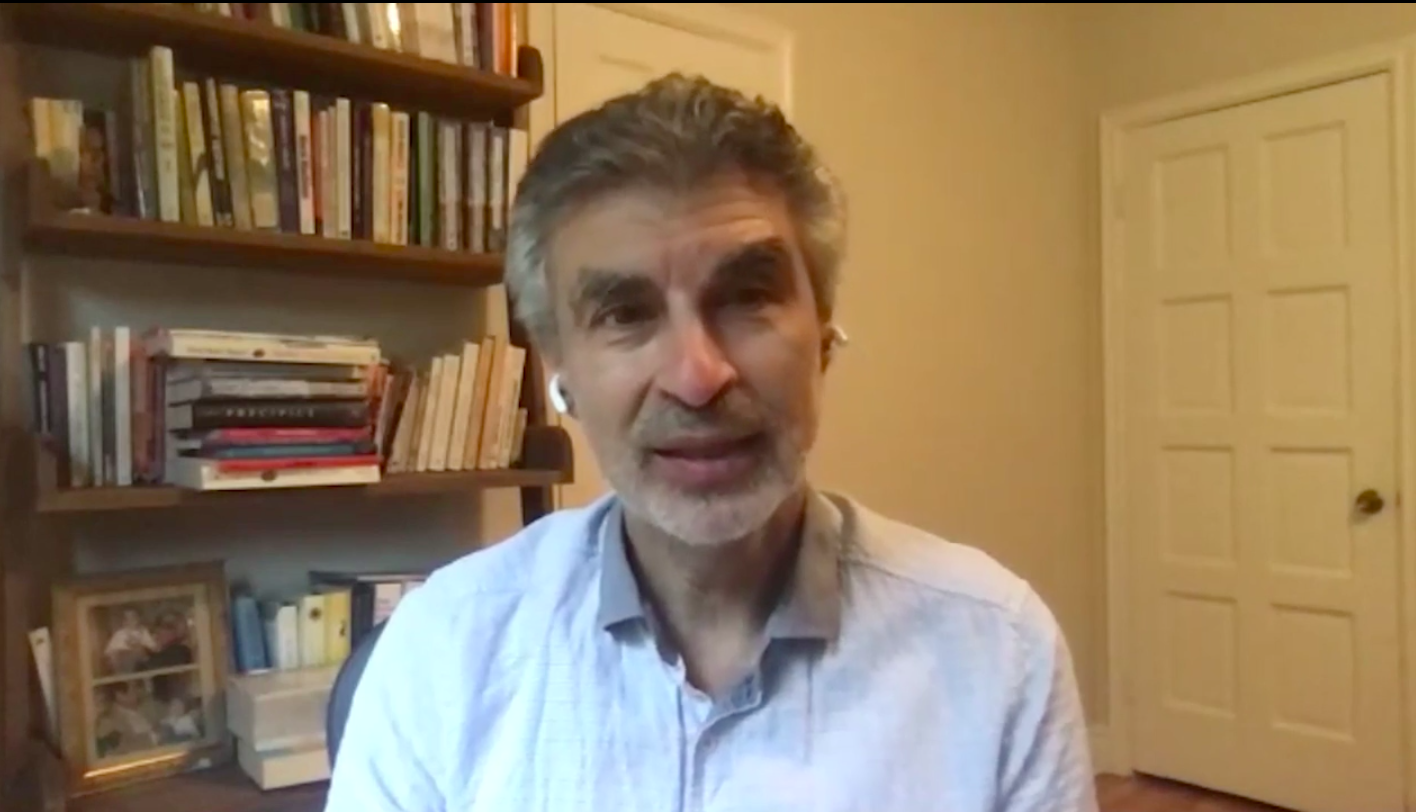 Prof. Yoshua Bengio is one of the scientists laying the foundation for AI development.
FPT.AI and practical actions to prevent the pandemic
In March 2020, Covid-19 outbreak suddenly happened. Since the number of cases and suspected cases increased rapidly, the pandemic response team needed a "backup". AI proved its importance when joining activities to fight against the pandemic. In only 3 days, with the Information Technology Department under the Ministry of Health, FPT.AI team successfully built a virtual agent Chatbot and integrated it into the department's website to automatically answer thousands of queries about symptoms, Covid-19 situation, and precautions.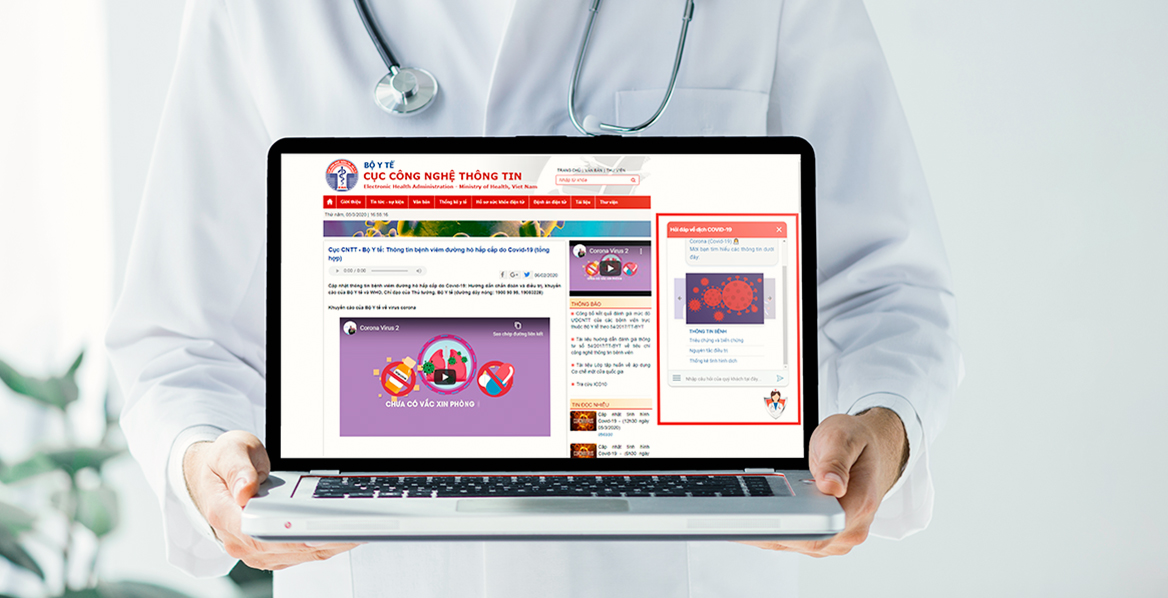 In 2021, Covid spread out quickly in many provinces, cities on a large scale, virtual agent voicebot of the call center 1800119 developed by FPT.AI made more than 2.6 million calls for health declaration, detect thousands of cases having symptoms. FPT.AI virtual agent even called automatically to screen residents in high-risk areas un Bac Giang, Bac Ninh, Ho Chi Minh City, etc.
At this time, FPT is also building a chatbot to provide information, instructions on how to take care of F0 at home, helping to ease the burden of the healthcare system and improve treatment results.
Virtual agents like FPT.AI chatbot and voicebot have been supporting in screening, contact tracing, and self-isolation instructions, receiving millions of calls to help the healthcare system.
"Technology, especially AI, has never been such an optimal choice to help save lives," said Mr.Truong Gia Binh.
Continue dreaming
During the conversation, Mr.Truong Gia Binh shared his ambition to make Vietnam the AI center of the area, bring more opportunities to Vietnamese technology talents to approach and learn from the best experts in the world.
"20 years ago, we had a dream of putting Vietnam on the world technology map, and we started from zero. With so much effort, we made this happen, and Vietnam is in the top 5 countries in terms of software development. Now our next challenge is to make Vietnam the area and the world AI center," said the head of FPT. But he also acknowledged that it will take many years to make this dream come true.
As Prof. Bengio said, to make a dream happen, first of all, you have to continue dreaming.
"20 years ago, or even 30 years ago, when I was a student, I was dreaming about AI and machines that learn in a way that like a human brain. And I continued dreaming, believing in some better understandings of these scientific questions for many years, even when it was not popular and difficult," he shared.
The second thing that FPT needs is investing in education. This is hard because "it's going to be difficult for Vietnam to attract leading researchers from outside and even a lot of Vietnamese, who are good in AI, are probably going to go to other countries." Therefore, it is needed to generate a flow of strong engineers and scientists and entrepreneurs that will drive this revolution. "Vietnam has many people who are into mathematics, the foundation subject for AI research. I believe it's totally possible to create that flow if there is enough investment and effort in education," Bengio noted.
According to the professor, AI can change the world and also make changes in Vietnam. In the future, AI will not only drive economic growth but also bring value to society, but humans have to adopt AI in the right way.
Regarding the power of artificial intelligence, Prof. Bengio believes that humans can control AI though it's not easy. "We are designing those AI systems. There is a danger that we build machines that are going to be used to increase power and hurt many people. There is a question if there will be intelligent beings we can consider human beings. This is a very science-fiction question. For now, the AI systems we have are very stupid. Hopefully, as we move in that direction, we also become individually and collectively wiser, and we make better choices for us and humanity," he said.
At the end of the conversation, Mr.Truong Gia Binh suggested if Mila could open a research center in Vietnam to continue its inspiring story about AI outside Canada.
"You're right that it's not sufficient to have a couple of students enjoy what we do here at Milan, and you have to build something that will accommodate a lot more people in Vietnam. And I would be happy to help. I mean how we can do that exactly needs to be constructed and discussed, but I like that dream for sure. And something like this must happen," said prof. Bengio.
Since June 2020, FPT started cooperating with Mila in three directions: training and exchanging quality AI resources; consulting to building an AI center in Binh Dinh, and connect business opportunities in Mila's ecosystem. 17 Vietnamese young experts have approached the training and research programs of leading professors at Mila. FPT also built a team of more than 200 AI engineers and experts at the AI research center in Quy Nhon.
----------------------------------
👉 Experience other products of #FPT_AI at https://fpt.ai/vi
🏬 Address: 7th floor, FPT Tower, 10 Pham Van Bach Street, Cau Giay District, Hanoi///3rd floor Pijico Tower, 186 Đien Bien Phu Street, Ward 6 District 3, Ho Chi Minh City
☎ Hotline: 1900 638399
📩 Email: support@fpt.ai