FPT cooperates with the world's leading AI institute Mila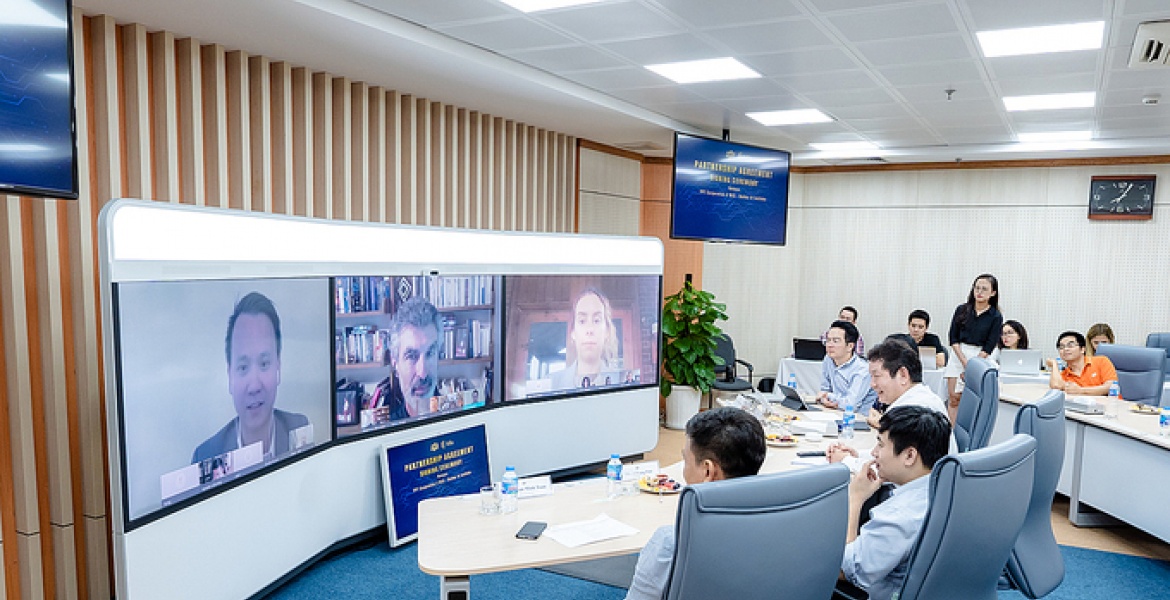 On June 12, FPT and the world's leading Artificial Intelligence (AI) Research Institute Mila signed a partnership agreement virtually in Hanoi (Vietnam) and Montreal (Canada).
After the agreement, FPT has become the first technology corporation in Southeast Asia to be a strategic partner of Mila AI Research Institute. The signing ceremony was held on June 12 in Hanoi (Vietnam) and Montreal (Canada) with the participation of Chairman of Binh Dinh People's Committee Ho Quoc Dung and leaders of other provincial departments.
Representatives of Mila Research Institute are Mr. Stéphane Létourneau - Vice President in charge of Mila's Partnership and Corporate Affairs; Mr. Yoshua Bengio - Director of Mila AI Research Institute. Representatives of FPT are Chairman Truong Gia Binh; Mr. Nguyen Thanh Nam - Principal of FUNiX; Ms. Chu Thanh Ha - Chairman of FPT Software; Mr. Tran Dang Hoa - COO FPT Software; Mr. Le Hong Viet - CTO of FPT.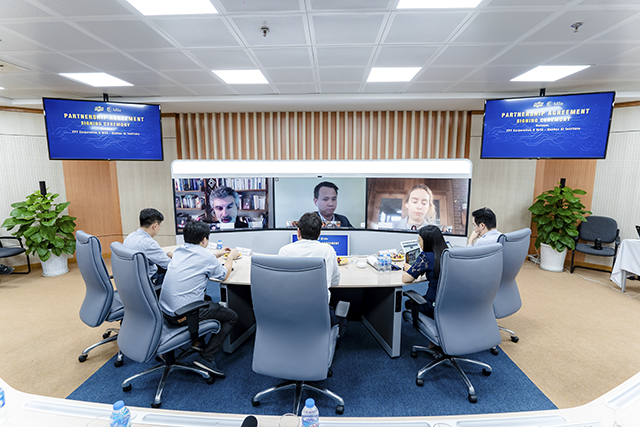 The ceremony took place virtually. Photo: FPT Software.
The three-year agreement (2020 - 2023) will promote the strengths of both sides in 4 major areas, including researching and developing FPT's AI capabilities; strategic consulting based on Mila's experience for FPT.AI Research Center in Vietnam, initially in Quy Nhon (Binh Dinh); training and exchanging AI's quality human resources, creating opportunities and gaining experience, improving technological capabilities with international stature; looking for business development opportunities in Mila's partner ecosystem.
As the world's leading professor of AI, who was awarded ACM A.M. Turing Award 2018, Mr. Yoshua Bengio - Director of Mila AI Research Institute - highly appreciated FPT's position and potential when meeting partner selection criteria. The most important factors among those criteria are AI ​​core technologies and potential, fully compatible and valuable AI applications that can contribute to Mila's AI ecosystem. Besides, "with a strategic vision that is bringing value ​​to the community through AI research, Mila is training and cooperating with AI talents around the world to change the future by the knowledge of AI technology", said Mr. Yoshua Bengio.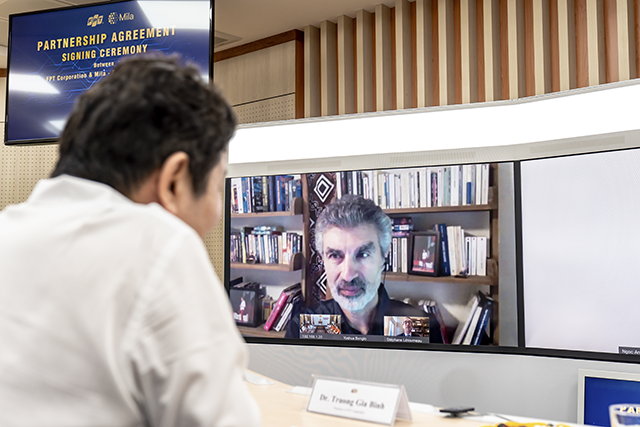 Professor Yoshua Bengio - Director of the Mila AI Research Institute. Photo: FPT Software.
According to Mr. Stéphane Létourneau, Mila Vice President of Partnership and Corporate Affairs, FPT is ready to be an ideal partner in collaborative research projects with the capabilities, determination and an AI research center. FPT is also focusing strongly on training and fostering talents to cherish a dream of building an AI center in Vietnam.
FPT Chairman Truong Gia Binh expressed his dream of making Vietnam the AI ​​center of the world, and FPT believes that this dream will come true and Vietnam will become the leading AI center in Southeast Asia with the advice and experience of Mila. "Vietnam's young technology talents will have opportunities to approach, experience, learn AI in-depth, and FPT's AI applications will be upgraded and improved continuously to help businesses effectively solve operational problems, build digital businesses for breakthrough in "the new normal", "he affirmed.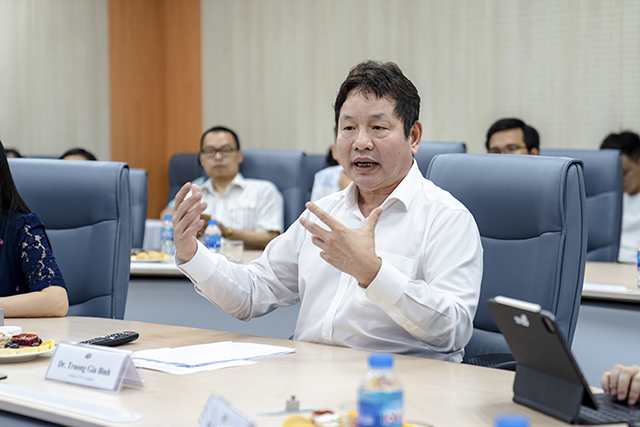 FPT Chairman desires to make Vietnam the AI ​​Center of the world. Photo: FPT Software.
At the meeting, Chairman of Binh Dinh People's Committee Ho Quoc Dung expressed his belief that this partnership will help FPT Corporation and Binh Dinh in particular, Vietnam in general take a step forward in artificial intelligence (AI) development. With the orientation of zoning Quy Nhon city to be the first scientific urban area in the country with the focusing on AI, Binh Dinh has taken some specific steps such as: actively participating in the center of information technology chain, established Quy Hoa Science and Education Urban Area.
"More than a year ago, when FPT established an AI unit in Binh Dinh, we started to have a dream of Vietnam's AI center in Binh Dinh. We are building programs together to make that dream come true. This partnership agreement between FPT Corporation and Mila AI Research Institute is a very practical action that can help us on that journey, "said Ho Quoc Dung.
With those contents of cooperation, FPT and Mila expect to achieve some outstanding results in the next 3 years, including suggestions and solutions for many problems of applied AI in many practical fields, which are the main focus of FPT technology, such as Smart Language, Smart Factory, AI in healthcare, agriculture, etc; opportunities to experience and enhance technological capabilities for both FPT human resources in particular and Vietnam's young technology community in general; success in building Vietnam's AI Research Center at international standards.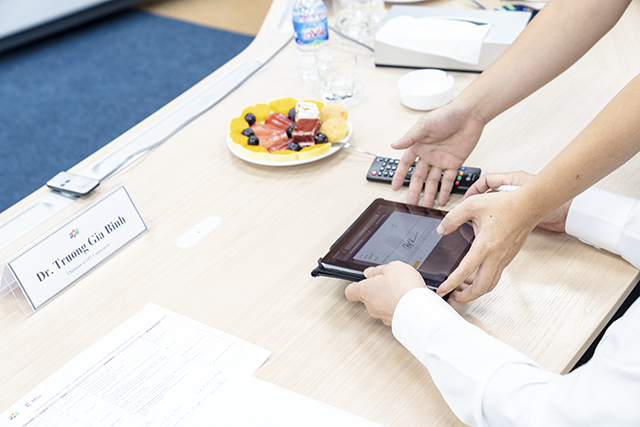 The two sides signed the agreement online. Photo: FPT Software.
Besides, with the strategic orientation of becoming a leading digital transformation service provider in the world, FPT has been promoting investment in researching and developing new core technologies such as AI and Big Data, Cloud Computing, Robotic Process Automation (RPA) ... In particular, AI is considered as one of FPT's key technologies in four core areas: natural language processing, computer vision, speech synthesis and recognition, and digitized knowledge systems.
Based on researches in these 4 core areas, FPT has introduced solutions and products that help businesses increase 80% of productivity, save up to 90% of costs, ensure business continuity 24/7 to be prepared for recovery and breakthrough after the pandemic. Currently, AI-based solutions and products are being applied in 70 large businesses in many fields such as telecommunications, e-commerce, finance - banking, public administration, and 1,000, 000 users are having the benefit of the service each year.
The partnership agreement between FPT and Mila will help with improving AI-based products and solutions, accelerating digital transformation as well as constantly spreading technological achievements in Vietnamese technology community in the future.
FPT.AI provides products and services based on Artificial Intelligence technology, helping businesses boost labor productivity, optimizing business processes, providing immediate, instant customer interaction experience. Those products are:
FPT.AI Conversation: The conversation platform allows creating smart chatbots, automatically communicating with customers and integrating multi-channel naturally.

FPT.AI Speech: The audio processing solution can convert speech into text (Speech to Text - STT) and convert text into speech (Text to Speech - TTS) with optimized phonemes to match Vietnamese dialect and communication culture.

FPT.AI Vision: Identify and accurately extract information from images, including Extracting information from identification documents and other documents, Face authentication. This product helps businesses digitize document processing, support and complete electronic Know Your Customer process (eKYC).

FPT.AI Virtual Agent for Call Center (Trợ lý Ảo tổng đài): The platform allows integrating Virtual Agent into switchboard to carry out two-way automated conversations with customers, automating actions of receiving inbound calls or making outbound calls (Smart IVR). Therefore, this platform helps agents to optimize productivity, focus on handling complex tasks (consulting, sales) and businesses to save costs.