Conversation
Free consultations for businesses' recovery and breakthrough after Covid-19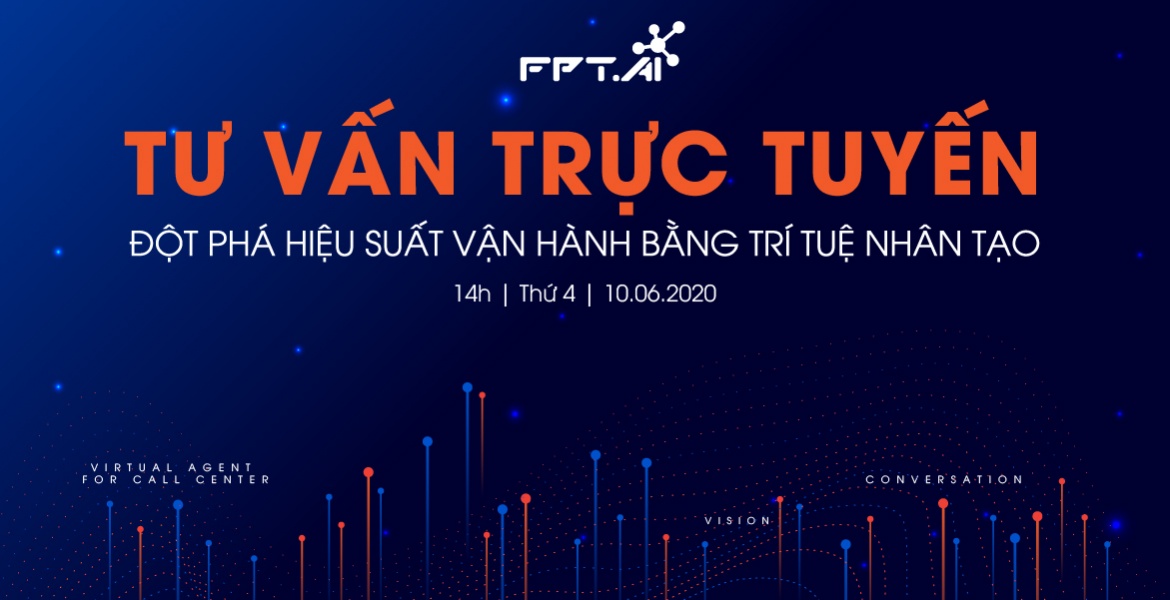 To support business development after the pandemic, FPT.AI organizes ONLINE CONSULTATIONS WITH SPECIALISTS at 14:00 every Wednesday on the digital transformation solutions page.
FPT experienced experts will help businesses enhance performance, maximize cost reduction to overcome difficulties and keep up with the market's rapid changes when entering "the new normal" by superior technologies solutions.
The first consultation will start on Wednesday at 14:00 this week (10/6) with the discussion about products including FPT.AI Virtual Agent for Call center, FPT.AI Conversation and FPT.AI Vision. These products help optimize business operation, save costs and boost productivity. Entrepreneurs and businesses can choose solutions and register for advice by these following links:
- FPT.AI Conversation: https://bitly.com.vn/gmYfJ
- FPT.AI Vision: https://bitly.com.vn/qev3w
- FPT.AI Virtual Agent for Call Center: https://bitly.com.vn/OJKai
FPT's digital transformation products are designed specifically for digital businesses and especially for the post-crisis period. In particular, FPT.AI Virtual Agent for Call center equips smart IVR for businesses, allowing natural conversations, interacting with customers and collecting statistics and information from the calls. As a result, businesses can save 50% on operating costs and increase 40% performance.
FPT.AI Conversation provides a smart chatbot that can automatically answer tens of thousands of customer requests at the same time, saving up to 60% on operating costs.
FPT.AI Vision helps businesses speedily digitize information and identify customers. OCR technology can extract information from indentification documents with up to 96% accuracy, only 2-3 seconds of input time and process thousands of images at the same time. Besides, eKYC helps speed up data procession, shorten customer identification time from a few days to 4 seconds, save effort, time and operating costs, reduce errors of manual input process and highly secure customer information.
The ecosystem of FPT's digital transformation products will also be introduced in detail about their outstanding benefits, features and effective implementation approaches in the coming weeks. The products can help businesses increase productivity by up to 80%, save up to 60% on costs and 90% on time.
A recent PwC's report on necessary factors for success after the Covid-19 crisis shows that a large proportion of CFOs think that flexibility (72%), persistence and agility (65%) and technology investment (52%) will bring long-term benefits to businesses. Meanwhile, only 16% of CFOs consider delaying or canceling their digital transformation investment plans.
After the blow of Covid-19, businesses realize the importance of a compact, flexible operating model, which helps save costs, optimize resources and improve labor productivity. It is not only an immediate solution in the pandemic but also a long-term orientation for sustainable development in the future.
--------------------------------------------------
👉 Experience #FPT_AI products at: https://fpt.ai/
☎ Hotline: 0911886353
📩 Email: support@fpt.ai