Hybrid Office - An Outstanding Trend In The 4.0 Age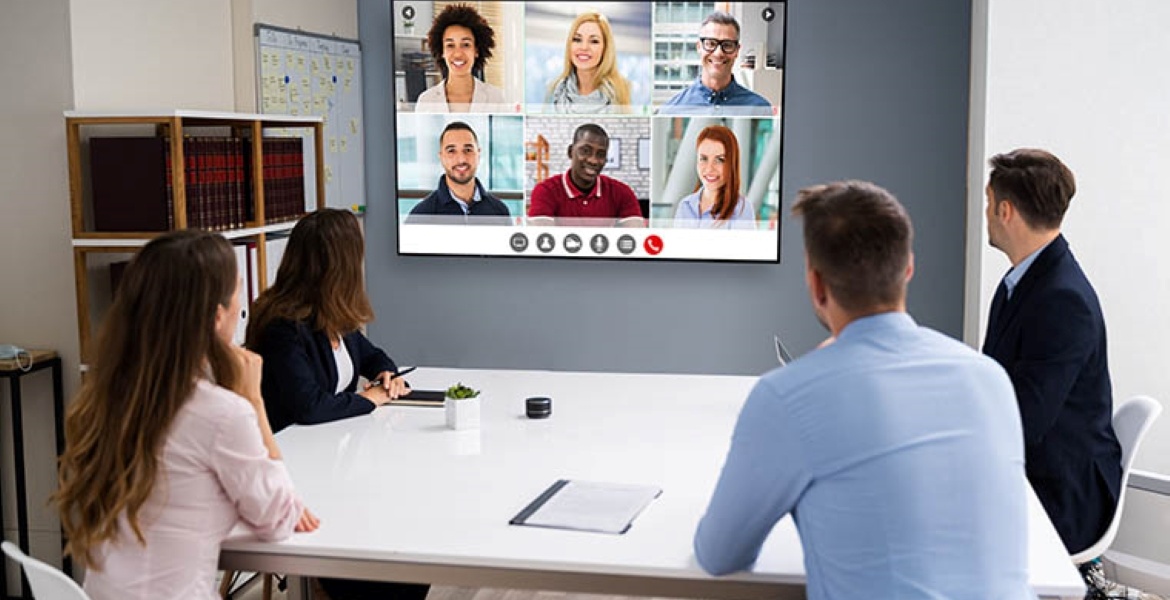 The Hybrid Work model has helped businesses maintain operations during 2 years of Covid-19 and changed the work habits of many organizations worldwide. As a result, adopting advanced technologies becomes the top priority of large businesses to create modern and cohesive hybrid offices.
1. What is Hybrid Work?
Entering the new normal, businesses gradually adapt to new working trends to improve the productivity of employees. The term "Hybrid Work" is increasingly popular and becoming an inevitable trend in the 4.0 age.
The Hybrid Work model allows employees to have two working modes in one week: On-site and Remote. One group works at offices and the other group works from home. These two groups switch locations at a certain time. The emergence of Hybrid Work not only creates a chance for employees to choose a suitable time and space for work but also helps them take advantage of both methods, enhancing productivity, and keeping a balance between work and other things in life.
2. Technology adoption in hybrid office
According to a survey by Accenture, 83% of employees experiencing the hybrid model believe that it is the best option for work in the future. The benefits of this model are undeniable. To ensure the quality of work as well as a positive working experience, administrators have been accelerating the deployment of technology in hybrid offices.
So how have technologies been adopted into hybrid offices?
AI technology helps simplify the remote working process
The most difficult challenge of working from home is the lack of interaction and cohesion between employee-employee and employee-manager. To solve this problem, many large businesses have built chatbots on internal messaging platforms or websites, aiming to answer questions about policies, salaries, benefits, work regulations, etc. Chatbots are powered by an artificial intelligence platform (AI) and equipped with advanced Natural language processing (NLP), helping them to identify the exact intent of each employee and give corresponding responses quickly, accurately and with one accord.

Chatbots are increasingly better at their role as enthusiastic "virtual employees' for administrative tasks. Instead of sending emails to HR departments, employees can send a range of requests right in their conversations with chatbots like two actual colleagues. All requests are collected and forwarded to the admin to be handled. The anonymous feature of chatbots on live chat websites creates a chance for employees to freely discuss and frankly give personal opinions. A chatbot is an ideal tool that helps administrators to survey and collect data about employee satisfaction, thereby maintaining internal relationships.
Besides chatbots, electronic Know Your Customer (eKYC) solutions have been drawing a great deal of attention from businesses. Integrating eKYC solutions into online meeting platforms helps accurately verify participants. In Vietnam, the smart online meeting platform Ubot Meeting is integrated with FPT.AI eKYC solution, allowing organizations and businesses to hold meetings with thousands of people with accuracy, security, and convenience.
FPT.AI eKYC integrated into Ubot Meeting is able to:
✅ Accurately verify participants
✅ Ensure transparency in voting and counting votes
✅ Enhance the security of large meetings
FPT.AI eKYC has accompanied Ubot Meeting to hold an online shareholder meeting for more than 200 businesses nationwide, serving over 100,000 members, reducing 45% costs of meetings at large corporations, whose employees spread across thousands of locations.
AI technology provides comfort and convenience in offices
The facial recognition technology Facematch is applied by many businesses for timekeeping and verifying employees, aiming to enhance security for businesses and convenience for employees.
Applying Speech technology and Natural language processing technology, Text-to-Speech solutions are able to help businesses in reading news and internal notifications, etc. Speech-to-Text solutions integrated with IoT technology allow humans to interact with many smart devices in offices through natural voices. Only a few small changes thanks to modern technologies have made offices more convenient and suitable for hybrid working. In the 4.0 age, work environment is one of the most important factors that help businesses to attract and retain talents.
Hybrid is an inevitable trend in offices in the future. Businesses should have a plan to accelerate building and leveraging opportunities from Hybrid Work, and thus simplify working processing and bring convenience to offices, thereby boosting productivity.
----------------------------------
👉 Experience other products of #FPT_AI at https://fpt.ai/vi
🏬 Location: 7th floor, FPT Tower, 10 Pham Van Bach Street, Cau Giay District, Hanoi// 3rd floor Pijico Tower 186 Dien Bien Phu, Ward 6, District 3, HCM City
☎ Hotline: 1900 638 399
📩 Email: [email protected]