Conversation
Why e-commerce platforms should have AI Chatbot?
A productive sales assistant can completely change the buying experience, especially when 24 million e-commerce platforms are competing in the market. However, not all businesses are alert enough to build a strong and smart tool for customer service called Virtual Assistant - AI Chatbot.
Imagine that customers go into a store and receive a warm welcome and thorough, friendly support from sellers, they can quickly find their needed products.
The purchasing process will smoothly happen if a smart sales employee goes through it with customers. However, for e-commerce platforms, personally supporting thousands or millions of customers every day requires a substantial amount of human resources. It has been an unsolved problem in e-commerce companies for decades. So what is the solution to this conundrum?
The "virtual employee" chatbot built on Artificial Intelligent is the optimal solution that actively solves this problem. AI chatbot can handle about 80% of common problems of customers, helping to reduce the workload of human supporters, save time, optimize the use of human resources and boost sales.
Chatbot is a personal sales assistant
Firstly, there are 2 important numbers from a survey conducted by Facebook Messengers in early 2020:
80% of consumers bought more when they were provided with personalized service.

49% of customers bought products that were not included in their purchase intention after receiving personalized suggestions.
The customer service team can provide detailed consultancy to each customer. However, the cost of human resources is high, especially for e-commerce platforms. Besides, an AI chatbot with a logical predetermined scenario can automatically serve thousands of customers at the same time.
The most outstanding strength of chatbot is the ability to provide natural two-way interactions to customers, give questions to suggest them as well as answers for their questions. Chatbot can ask customers about their preferences, needs, budgets and favorite brands, etc. Based on that information, it offers advice on "You might also like these" products with photos and links to sales pages, so customers quickly make decisions and the conversion rate increases.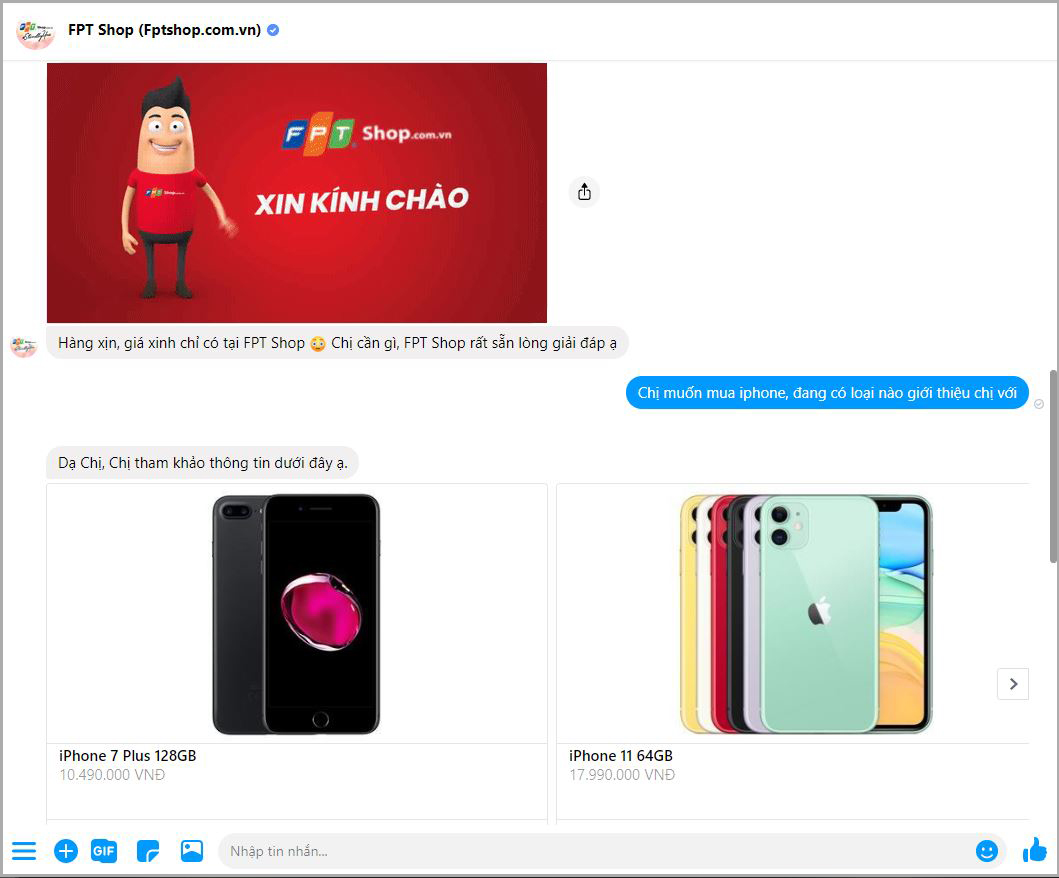 After about 2 years of serving customers and training, Pika Chatbot of FPT Shop can understand customer's intent with high accuracy to support the customer service department in the first steps.
Another example is the Virtual Assistant of Tiki which specializes in post-purchase operations to help customers quickly cancel orders, give advice on payment, guarantee and installation. Thanks to Virtual Assistant, Tiki can simplify the customer service department, help customers save time and reduce the operating cost.
Chatbot improves Return on Ad Spend (ROAS)
AI Chatbot can be integrated into many messaging applications such as Livechat on websites, Zalo, Viber, etc., especially the one with the highest number of users in the world at this time: Facebook Messenger.
Businesses can use chatbot as a powerful tool for product launch campaigns, promotions, discounts on Facebook. When chatbot is integrated into Fan Page, e-commerce platforms can use advertising to attract potential customers to the inbox section. After that, chatbot automatically performs the next steps of customer service. Chatbot acts like a filter that supports and navigates buyers to easily choose suitable products among hundreds of them.
For chatbot built on FPT.AI Artificial Intelligent, the broadcast feature helps it to automatically send mass notifications to all customers or a specific group about new promotions. It can tag topics that customers interest in according to a prepared list during the conversations with customers. It is an important step that categorizes customers for businesses to take care of each customer group later.
Chatbot can recover revenue from carts 7 times more productively
In reality, the problem of e-commerce businesses is that many products put on cart might never be bought. The ratio of abandoned carts is up to over 70%. All pre-purchase experience, from introducing products to consulting, will be useless if the payment step is not carried out. Therefore, e-commerce businesses must have an "abandoned cart reminder" by Chatbot.
The "abandoned cart reminder" was deployed previously through emails or notifications on websites. However, the percentage of opened emails was low or customers did not visit websites regularly to see notifications. With chatbot on Messenger, the ratio of seen messages is 80% and the rate of clicks on links is up to 35% while these percentages for emails are 20% and 2% relatively. Chatbot has proven itself a tool that is 7 times more effective than others. Moreover, the interface of messaging platforms is updated more often than emails because users visit Messenger frequently and read messages in 3 minutes while they do not check mailboxes all the time.
Therefore, many e-commerce businesses are integrating Chatbot into their CRM platforms, thereby directly connecting data of carts and chatbots. As a result, chatbot can automatically send abandoned cart reminders to consumers through Facebook Messenger.
All businesses value the flexibility of the integration between advanced technologies and their available systems, and chatbot is not the exception. Chatbot does not require numerous technical employees with high-level skills to develop. With the smart chatbot building platform of FPT.AI, any business can create and develop a chatbot and receive enthusiastic support from FPT.AI.
--------------------------------------------------
👉 Bắt tay ngay vào xây dựng chatbot với nền tảng tạo chatbot FPT.AI Conversation: https://bot.fpt.ai/
👉 Trải nghiệm các sản phẩm của #FPT_AI tại: https://fpt.ai/vi/
☎ Hotline: 0911886353
📩 Email: support@fpt.ai