Call Center
Interactive experience with FPT.AI Virtual Agent impressed visitors at DX Summit 2022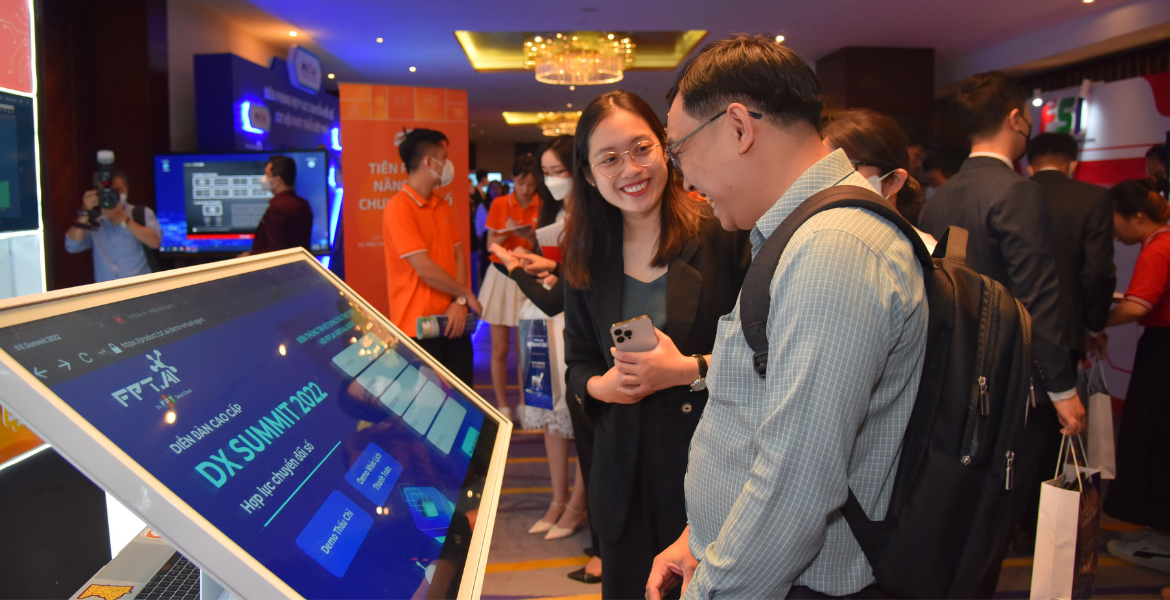 At Vietnam - ASIA DX Summit 2022 on 25-26 May, FPT.AI brought an impressive interactive experience to visitors with the AI Engage Virtual Agent. Besides, the company's representative had a seminar with leading experts about digital transformation in the Finance - Banking industry.
FPT.AI - The highlight of the tech exhibition DX Summit 2022
With the theme "Digital Transformation Synergy'', Vietnam - ASIA DX Summit 2022 was held by VINASA in collaboration with the Ministry of Information & Communications, aiming to gather resources - from the public sector, private sector, and international organizations; from entrepreneurs, IT teams to experts; from experience to financial resources to accelerate digital transformation. FPT Corporation participated throughout the event as the Golden sponsor, from speech sessions to the exhibition of leading tech solutions.
Visitors experienced FPT.AI Virtual Agent for Call Center at the event.
Coming to DX Summit this year, FPT.AI took part in the exhibition with key products such as FPT.AI Conversation - A smart chatbot platform; FPT.AI Virtual Agent - a naturally interactive AI virtual agent for call center; FPT.AI Reader - a comprehensive solution to extract and process documents. Visitors who had experienced interactions with AI virtual agents right at the booth mostly felt interested in this intelligent "character" that had a natural human-like voice. These are products in the "Made in FPT" tech ecosystem that achieve global standards, and accompany Vietnamese businesses in their comprehensive digital transformation journey.
Hoang Duc, a technology expert, and visitor at DX Summit 2022 said: "I have interacted with many AI voice bots from large corporations such as Google or Apple, but didn't expect that level of complement in the voice bot of FPT.AI. The Vietnamese voice is so natural that I can't tell if it's machine-generated when I hear it. Bot also asks and answers, interacts naturally and understands me quickly. In general, I'm excited about this experience."
Comprehensive digital transformation in the Finance - Banking industry with FPT.AI solutions
At the event, FPT.AI's representatives had a seminar with managers in the Finance - Banking industry. As a field that requires acumen and quickly grasps the most advanced technologies, Finance - Banking in Vietnam and around the world has undergone fundamental changes thanks to artificial intelligence. AI applications emerge across different banking operations, from building virtual agents for call centers with the ability to interact naturally with customers, to facial and voice biometric technology, image data processing, risk management, and decision-making support. In this situation, FPT.AI becomes outstanding as the top partner of banks and financial organizations in terms of providing a comprehensive and specialized AI platform.

Ms.Vu Hai Yen, Director of Conversation AI Product Center, was giving a speech at DX Summit 2022
Ms.Vu Hai Yen, Director of Conversation Product Center, FPT Smart Cloud, shared at the event: "FPT.AI always considered banks and financial organizations the most important partners. We have been improving our products, especially the FPT.AI Conversation and FPT.AI Virtual Agent group, to bring the highest quality of experience to our clients. Only in the first 3 months of 2022, our voice bots and chatbots directly served more than 6 million customers in the Finance - Banking industry, handling around 120 million messages and calls each month. It's predicted that intelligence chatbot and voice bot technology will keep being developed strongly and invested heavily by banks, which is because of its amazing productivity and ability to scale up."
Closing DX Summit 2022, FPT.AI had an impressive show when proving its position again in the big picture of macro digital transformation. A comprehensive artificial intelligence is a smart key that helps businesses to "take a shortcut road, take the lead" in the digital transformation journey, catch up with recovery speed and develop sustainably after the pandemic.
------------------------
Experience products from FPT.AI at https://fpt.ai/vi
Hotline: 0911886353
Email: [email protected]