Call Center
Introduce the AI Contact Center Enhancement solution – FPT AI Enhance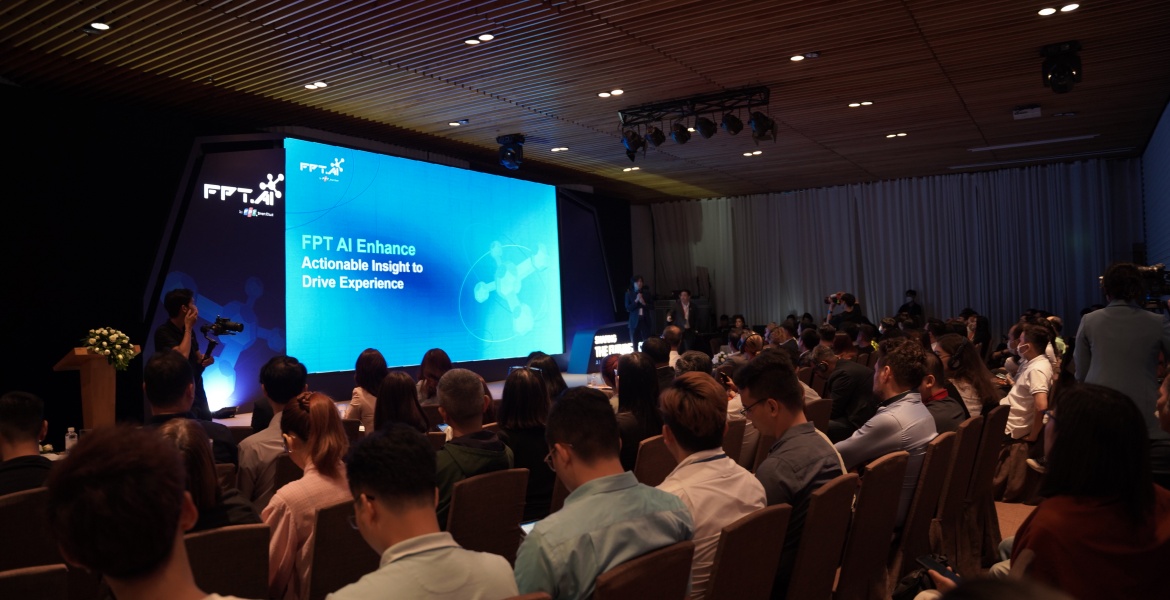 Each month, the contact center processes an enormous number of conversations with customers, tangling many quality control concerns. The FPT AI Enhance solution has been developed to assist businesses in managing calls via the contact center on a large scale, powered by Artificial Intelligence.
On March 17th, 2023, the AI Conference 2023 "Shaping the Future of CX" took place, involving the participation of 200 business leaders, high-level managers, and experts of leading enterprises in customer experience by leveraging digital technologies. At the event, FPT Smart Cloud launched FPT AI Enhance – the AI Contact Center Enhancement solution that boost agent efficiency, conducing improvement in service quality by analyzing and assessing 100% of conversations with customers.
The optimization problems in contact center
In the digital era, customers communicate with brands in multiple channels, by various mechanisms. In a typical contact center, each day, an agent needs to handle about 200 inbound and outbound calls on average. Predictively, large enterprises may need to process up to millions of calls with customers monthly.
Admittedly, beneficial insights about customer demands, preferences, and behaviors are well-hidden in each conversation between the business and the customer. Yet, it is difficult to ensure analysis of all conversations with high frequency, consistency, and well-defined criteria. In addition, many contact centers encounter aching problems in monitoring and measuring service quality of every agent.
Acknowledging such pain points, FPT Smart Cloud successfully built FPT AI Enhance – the AI-enabled solution to manage quality in contact center. FPT AI Enhance allows the contact center to analyze 100% of calls, providing detailed scoring and statistics, thus, improving operating efficiency in contact center and empowering customer experience.
Actionable insight to drive experience
Different from traditional method of taking randomly 3-5% of calls for analysis samples, FPT AI Enhance is integrated to contact center, analyzing thousands, even millions, of inbound and outbound calls at the same time, in accordance with specific campaigns, customizable criteria.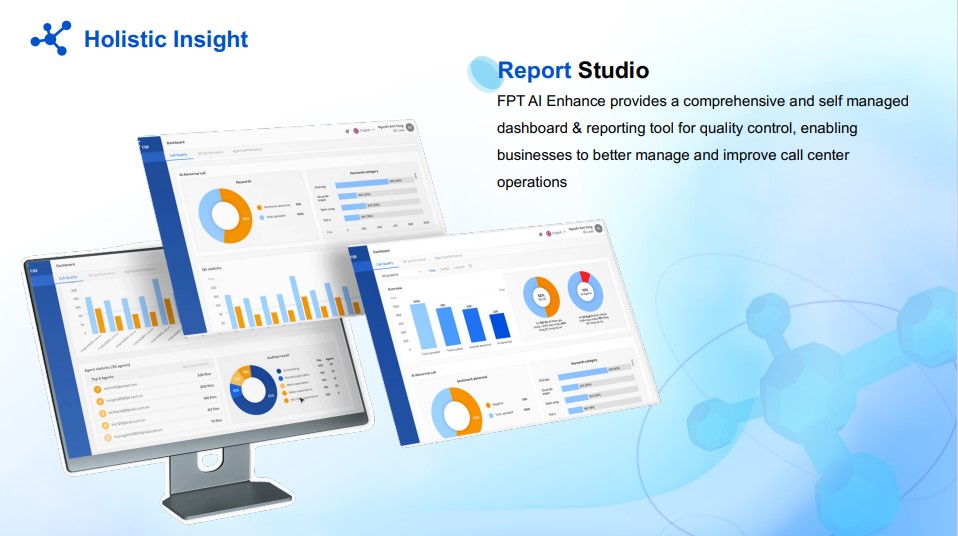 Administration interface of FPT AI Enhance
FPT AI Enhance automatically assesses and scores conversations based on standards established by each business. Typical criteria are waiting, compliance to scripts, and sentiment (tone of voice, volume...). FPT AI Enhance possesses outstanding features such as identifying and understanding language, sensitive info analysis, sentiment analysis, and alerting need-attention calls. The system filters abnormal calls by catching negative keywords/key phrases as well as dialogue intents. Subsequently, the management personnels will follow-up to further examine the conversation.
Mr. Tran Viet Hung, Product Director of FPT AI Enhance, shares: "FPT AI Enhance can synthesize data, provide holistic reports of agent performance for businesses, in which real-time analytics help reduce 70% of time spent on quality assessment; 100% of conversations are automatically supervised to decrease compliance issues by 60%, ultimately accelerating service quality in contact center."
Through the assistance of FPT AI Enhance, managers are equipped with in-depth, validated analytics to plan employee training, upgrade the contact center system... Business leaders are able to oversee customer trends and expectations from each conversation, determine the gap in customer service operations and agent performance; therefore, making informed decisions to improve products and optimize customer experience.
Undoubtedly, customer expectations are elaborating along with the growth of digital experience. And, FPT AI Enhance is the "motivation" for businesses to expedite the journey to win over their customers. Pioneer enterprises that exploit conversational data will better understand customers to offer them personalized, enjoyable solutions as they interact.
Watch the AI Conference 2023: Shaping the Future of CX here: https://webinar.fpt.ai/aiconference2023