Digital Banking Race: Applying AI solutions to operating processes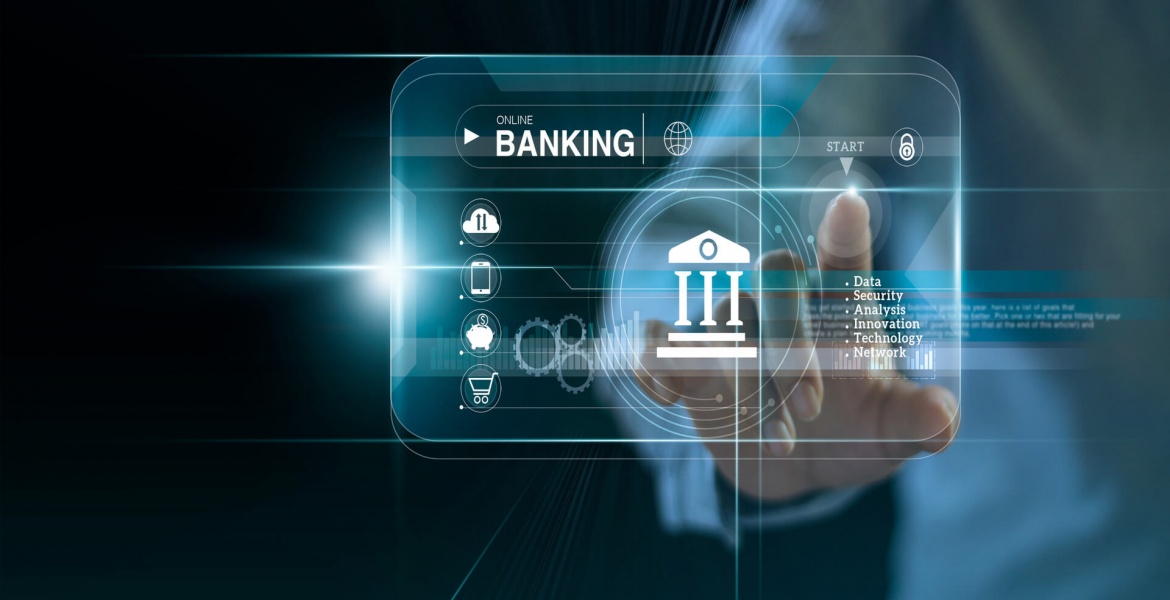 AI in banking is developing, offering the potential to tackle more complex challenges while generating more positive ROI across business segments. How are AI solutions being applied to all business processes?
1. The inevitable transformation trend of the banking industry
Over the past several decades, the banking industry has been improving its methods of interacting with customers, constantly adapting modern technology to address important operations. In the 1960s, the first ATMs were installed, and ten years later, customers used cards to make transactions and payments. At the beginning of the 21st century, online banking was introduced and gradually became popular. The 2010s were the boom of mobile banking. The development does not stop here, as the digital age has opened up many new opportunities in the application of Artificial Intelligence (AI) in the Finance - Banking industry. The race of digital banks is taking place strongly across the globe.
Banks are forced to digitize their business operations to keep up with customers' expectations of service quality. The new generation of customers are young people who are fond of technology and love to experience fast and instant services. Therefore, personalized customer service and continuous breakthroughs in the technology experience will be an important factor determining market dominance in the next decade.
According to OpenText's 2018 survey of Financial services professionals, 80% of banks are aware of the potential benefits of AI. In fact, many banks already have plans to implement AI-powered solutions: 75% of respondents from banks with assets over $100 billion said they are implementing AI adoption strategies. Banks use AI to transform the customer experience by enabling 24/7/365 service interactions.
According to Business Insider Intelligence data in 2019, by 2021, banks are expected to save about $447 billion by deploying and applying AI solutions. However, AI in banking applications is not limited to retail banking services. The three main channels through which banks can use AI to save costs are Font office, Middle office and Back office. AI applications in Middle office and Front office help digital banks save more costs.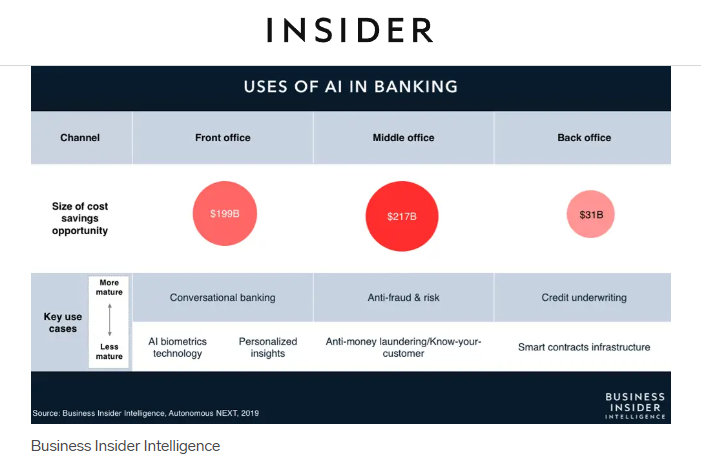 2. How do banks apply AI in the operating process?
Front office
Front office in the banking industry can be understood as the customer contact department and brings great profits. Digital banks are leveraging AI algorithms with user interfaces to provide a variety of quality customer services. By mimicking face-to-face consultants, chatbots and voice assistants (voicebots) help maintain and deepen business-to-customer relationships. In Vietnam, SeABank is one of the pioneering large banks to cooperate with FPT.AI to build and integrate a Virtual Agent (voicebot) into the customer care switchboard. SeABank's virtual assistant switchboard is capable of automatically making millions of calls to remind payment schedules and renew passbooks. After actual implementation, SeABank's Virtual Agent has made more than 300,000 calls/month, increased productivity 40 times, 80% of customers are satisfied with calls made from Virtual Assistant, helping SeABank save about 17 billion VND/year in operation and telecommunication costs.
Middle office
AI supports banks most effectively in Middle office services (information resource management department) to assess risks, detect and prevent payment fraud and check customer identification regulations (KYC). Most of the major banks in the world have deployed many solutions to apply Computer Vision technology to recognize customers' faces such as: online customer identification (eKYC), customer identification at transaction counters, allowing customers to withdraw cash by Face ID at ATMs... In July 2020, among the social distancing situation caused by the Covid-19 pandemic, VPBank was the first bank in Vietnam to deploy eKYC – electronic Know Your Customer, allowing customers to overcome all geographical and time barriers to perform identity verification 100% online without face-to-face meeting like the traditional identification process. After only 2 months of applying eKYC, VPBank has approximately 15,000 new registered accounts, equal to 50% of the estimate for the whole of 2020. In the near future, eKYC can handle more than 90% of the manual customer verification workload for digital banks.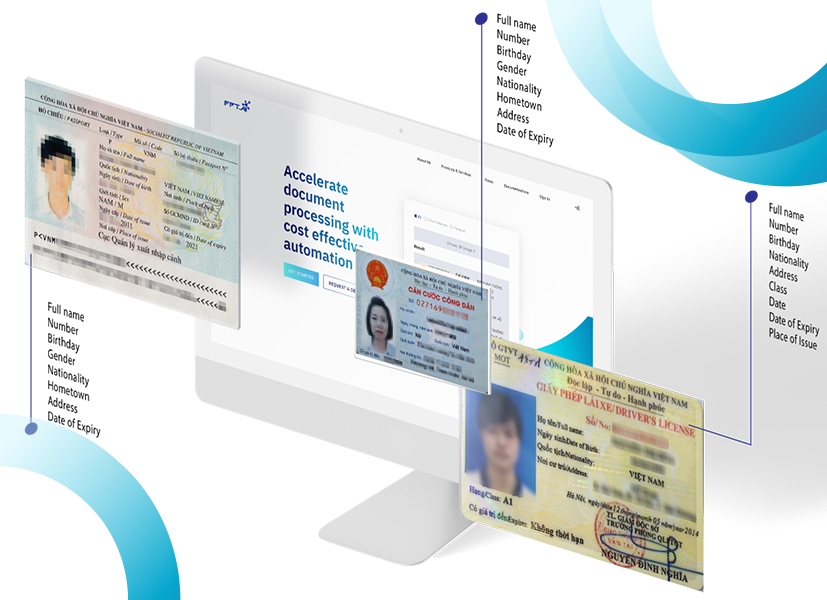 Back offfice
Regarding back office operations in banks, AI application solutions provide the most effective support in digitizing documents and managing customer data. Document digitization is the first and crucial step in cleaning data for storage and integration with RPA robotic process automation software. FPT.AI Reader is a solution that combines OCR technology with Artificial Intelligence, making it capable of recognizing and extracting important information fields on documents. Banks can use FPT.AI Reader to digitize various documents such as customer contracts, bank statements, customer identification documents such as ID, Passport, Certificate of land use rights... for identification results up to 98%.
In 2020, MB Bank launches MB Family package - a family product with incentives for all members. To participate in the product package, customers need to provide documents including: ID cards of the parents; Household registration / Marriage registration certificate; Child's birth certificate.
MB Bank has trusted and chosen FPT.AI Reader solution to automatically extract data from members' registration records quickly and accurately, meanwhile digitizing and accelerating the data entry process, increasing the customer experience. FPT.AI Reader has received positive feedback and high appreciation from MB Bank. Especially the ability to recognize letters and numbers on the ID cards with high accuracy even with the old, fuzzy ID numbered. Each day, FPT.AI Reader processes about 5,000 requests/day for MB Bank, and this number is still growing everyday.
AI solutions have become an integral part of every bank's rising strategy for sustainable development, helping banks maintain their position and increase competitive advantages in the domestic market as well as in the international market. FPT.AI with its comprehensive set of Artificial Intelligence technology solutions is always ready to accompany Vietnamese businesses to build solid steps for digital transformation in the fierce banking market.
-----------------------------------------------
? Experience other products of #FPT_AI at https://fpt.ai/vi
? Address: 7th floor, FPT Tower, 10 Pham Van Bach Street, Cau Giay District, Hanoi///3rd floor Pijico Tower, 186 Dien Bien Phu Street, Ward 6 District 3, Ho Chi Minh City
☎ Hotline: 1900 638399
? Email: [email protected]