Conversation
Chatbots and their adoption in Financial services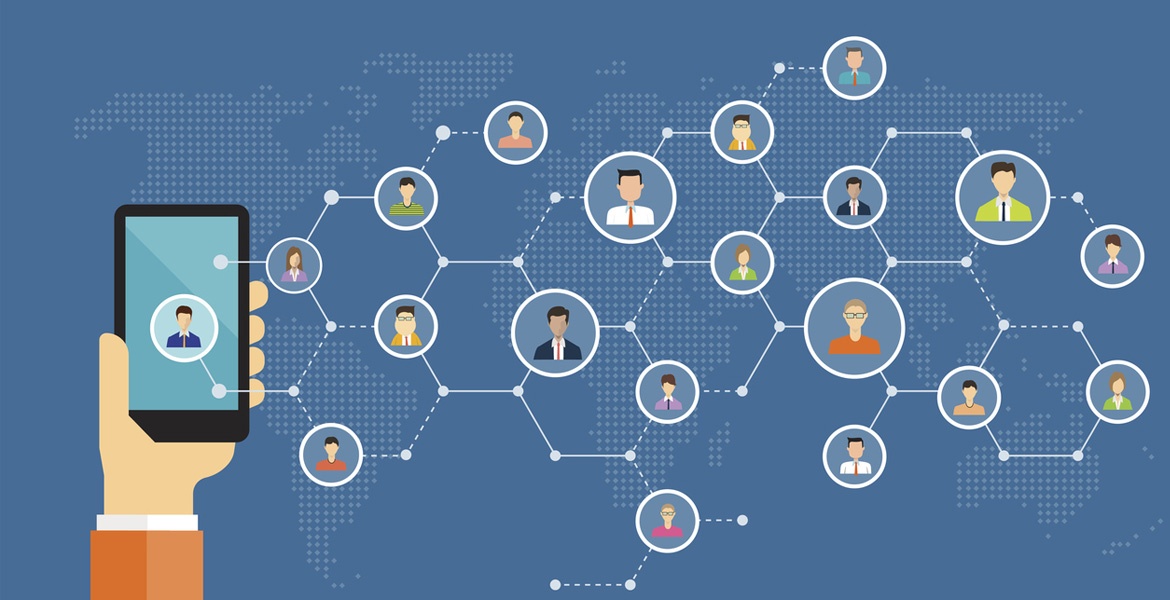 Chatbots are used in many different sectors, especially in Financial, Banking, Insurance services, etc. Chatbots were used to support customers and perform self-service during 2020 when the Covid-19 pandemic broke out. So, in each sector, which tasks are chatbots undertaking in particular?
Chatbot in banking
Chatbots are powered by Artificial intelligence (AI) and Natural language processing (NLP) to be able to interact with humans in the most natural language. Thanks to NLP, chatbots can understand the intent of users' sentences and automatically give corresponding responses.
In the banking sector, chatbots provide a new solution to improve customer service. They allow banks to support customers faster by automating answers, especially for FAQs.
🔷 Support customers: A banking chatbot can receive, categorize or process customers' claims, which decreases the number of customers going to transaction offices and contacting hotlines directly. Via chatbots, customers can do many tasks automatically such as: Report lost card, Register to loan application, See product packages, or Ask about payment, disbursement or loan service, etc. This brings 2 advantages to banks. Firstly, customers are satisfied since they get answers quickly for their inquiries and problems are solved speedily without waiting. Secondly, banking personnel optimally focus on urgent problems that cannot be automated, thereby saving time and human workforce.
🔷 Self-service: With the popularity of smart mobile devices, banking apps are increasingly added more features that help customers connect quickly with their bank accounts. And chatbots can replace human supporters to serve customers 24/7/365 on those platforms. Besides, chatbots can be integrated into many non-traditional channels at the same time such as Facebook Messenger, Zalo, Viber, etc., helping customers to interact with businesses everytime and everywhere.
🔷 Onboarding: Chatbots are used to skip some steps that new customers need to go through when register to a service. Instead of going to branches to open an account, chatbots can help customers set up a new account during their conversation, reducing inconvenience and enhancing productivity of bank tellers.
In Vietnam, several banks have been adopting AI chatbots to simplify one or many tasks. For example, TPBank uses a chatbot to support customers in some tasks such as Request new PIN, Report error, Guideline on how to use eBank, etc. Customers can provide their information to the bot for verification, then receive a new PIN without going to ATM or transaction offices, thereby saving time and effort.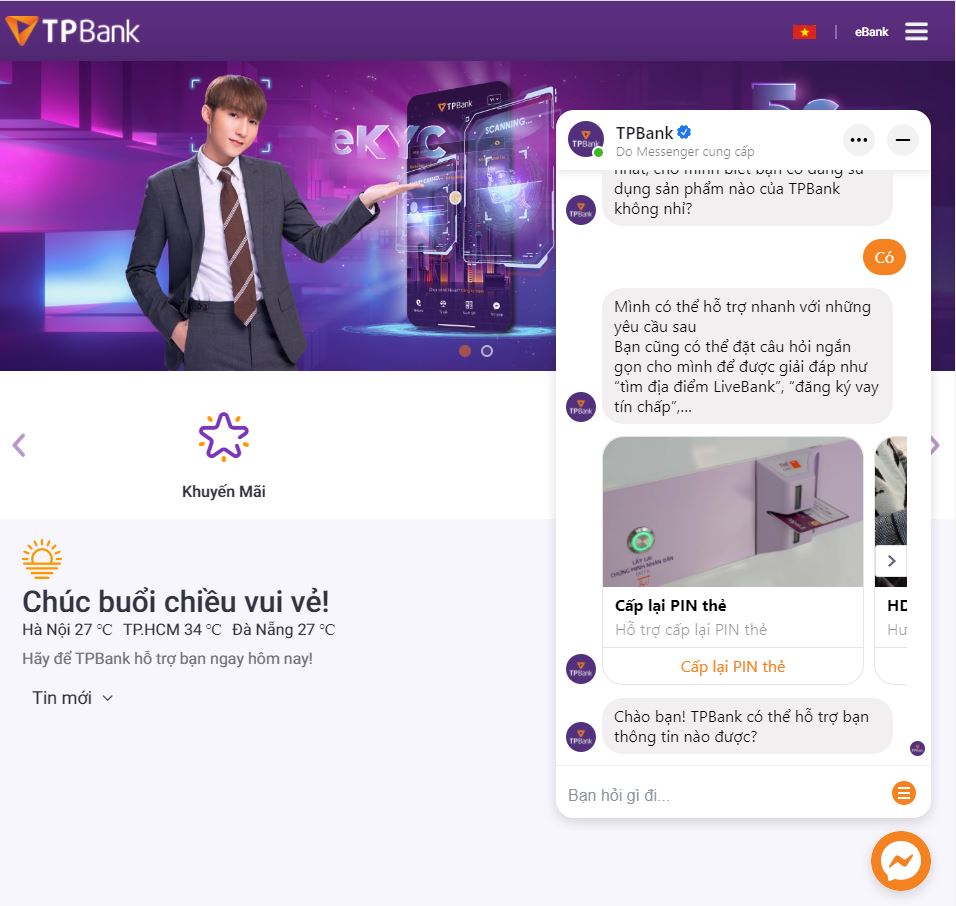 Chatbot in Insurance
In the Insurance industry, chatbots are used to automate following processes:
🔷 Provide information: Chatbots can perform several tasks for each type of customers, provide information about policy and FAQs to customers.
🔷 Buy and extend insurance: Customers can buy insurance or extend their contracts effortlessly during their conversation with chatbots.
🔷 Request insurance claim and check claim status: Chatbots can be integrated into CRM systems to process and confirm ownership of insurance contracts. When any problem arises that needs an insurance claim, customers can provide information to chatbots quickly as they talk to a friend.
🔷 Complain: Customers can complain to chatbots at any time. This allows customers to make a complaint faster than contacting customer service teams or going to offices. Customers can track complaint status until their problems are solved.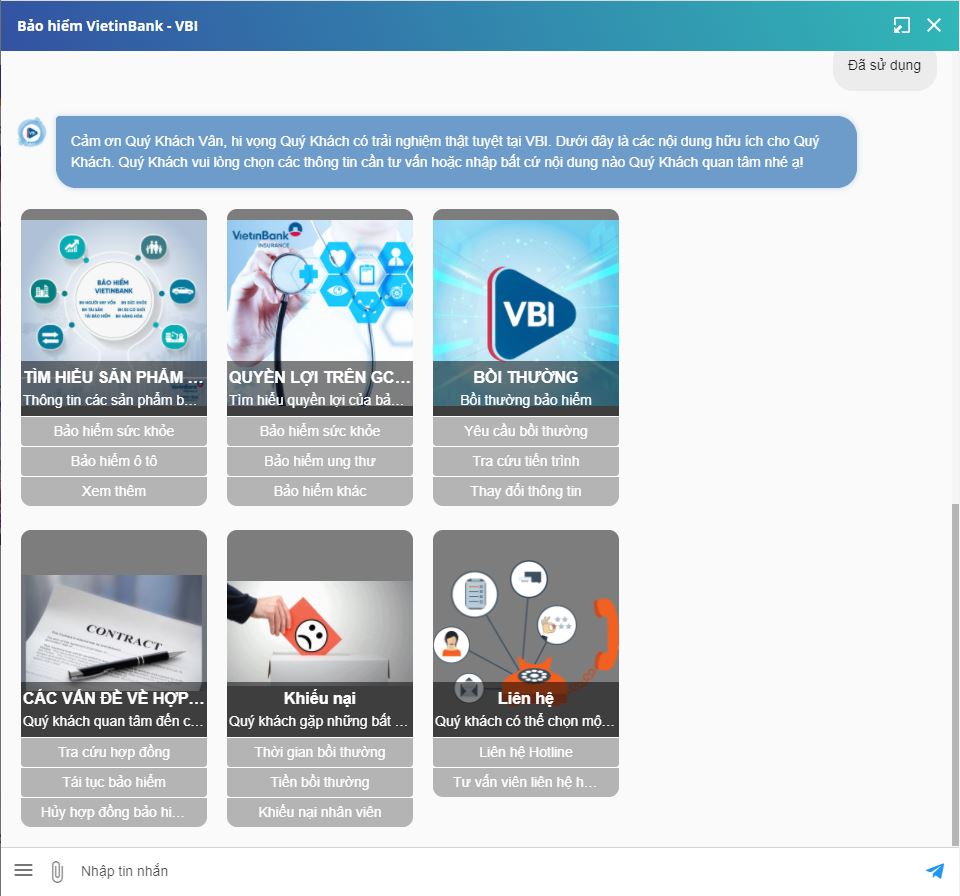 One of the insurance companies pioneering adopting chatbots to support customers 24/7/365 is Vietinbank Insurance. Chatbots can perform many different tasks such as buy and look up insurance plans, request claims, track claim status or make a complaint to customer service departments. Thanks to chatbots, the workload of human supporters is reduced. Chatbots work as a filter for problems of customers, so that human supporters can focus on more complicated and professional tasks.
Chatbot in Finance
In the finance industry, chatbots are used to reach new customers, support customers to get loans.
Introduce product packages: As the Banking and Insurance industry, chatbots help Finance companies to introduce product packages in detail to customers fully and clearly. Customers can ask chatbots for consultation on suitable finance packages. Chatbots simplify a long and complex process, thereby increasing the chance to complete initial registration.
Filter loan application: Chatbots can receive personal information of users to create customer profiles. Supporter teams use the information to categorize customers and provide in-depth consultation to support them as fast as they can.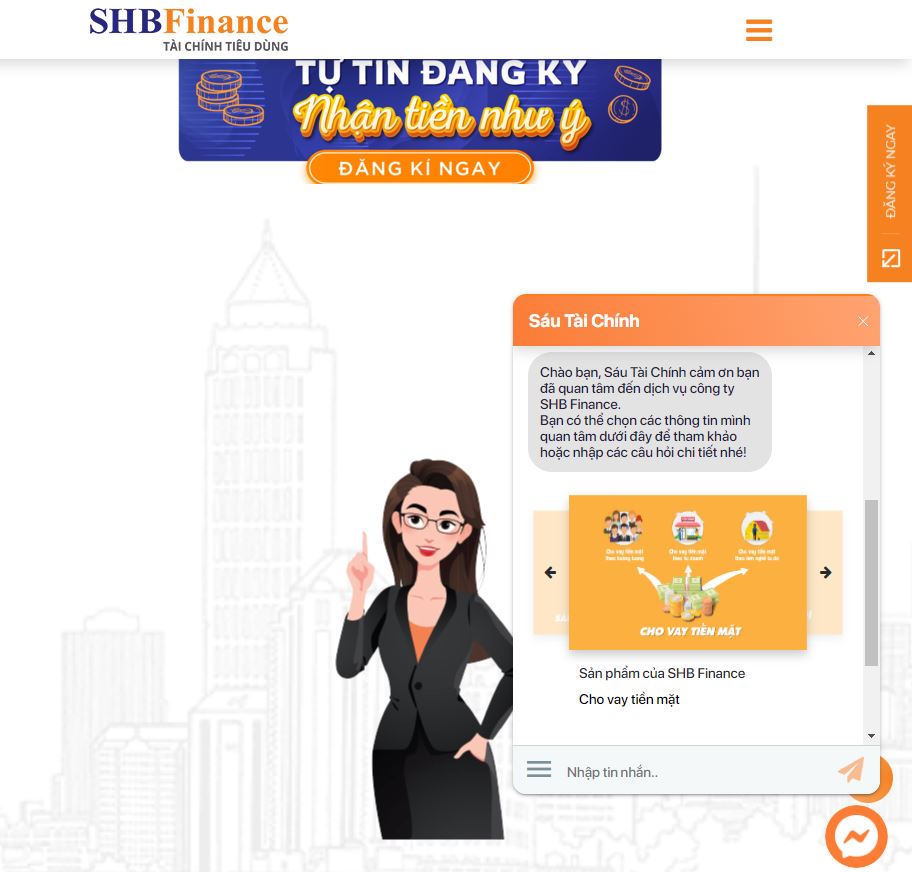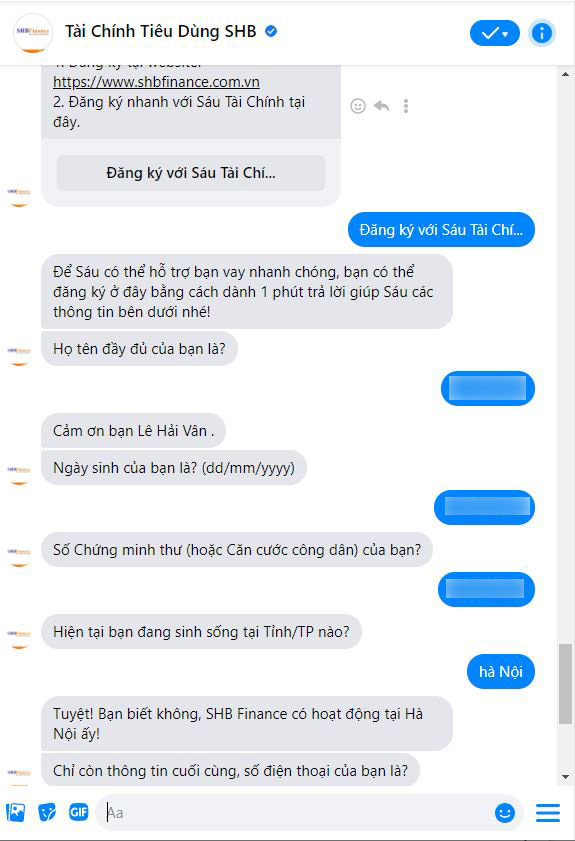 For example, chatbot of the Finance company SHB receives customer information such as Full name, Date of birth, ID number, Address and Phone number to have an overview of customers before the information is forwarded to supporters. Customers registering with chatbots are those who really need the service. Insurance agents can contact them and give them the most detailed advice, avoiding giving customers insurance spam calls.
Chatbots are adopted popularly in financial services around the world. The multi-channel feature and the ability to understand natural language help chatbots to personalized service for each customer on several channels. Through many different messaging platforms, customers can easily access services which previously were only available on banks' apps. Multi-channel interaction helps customers to interact with a financial organization and access its services via several means, thereby increasing interaction.
Building a chatbot can be difficult to many businesses, especially those without in-house technology teams. Therefore, it is of utmost important to choose a smart chatbot creation and management platform with simple operation and easy integration into systems of businesses.
At this time, FPT.AI Conversation is the best and the most comprehensive chatbot creation platform in Vietnam. With natural language processing technology (NLP) that is specialized in Vietnamese, FPT.AI Chatbot has the ability to understand the exact intent, content, which helps automate many conversations between businesses and customers, and brings satisfaction to customers. Simple chatbot building and a user-friendly interface make it accessible and easy-to-use for any administrator and employee.
-------------------------------------------------------------------
👉 Experience building a chatbot for free at https://bot.fpt.ai/
☎ Hotline: 0911886353
📩 Email: support@fpt.ai