Text to Speech
FPT.AI enhances Virtual Agent for Call Center with Voice Technology AceSound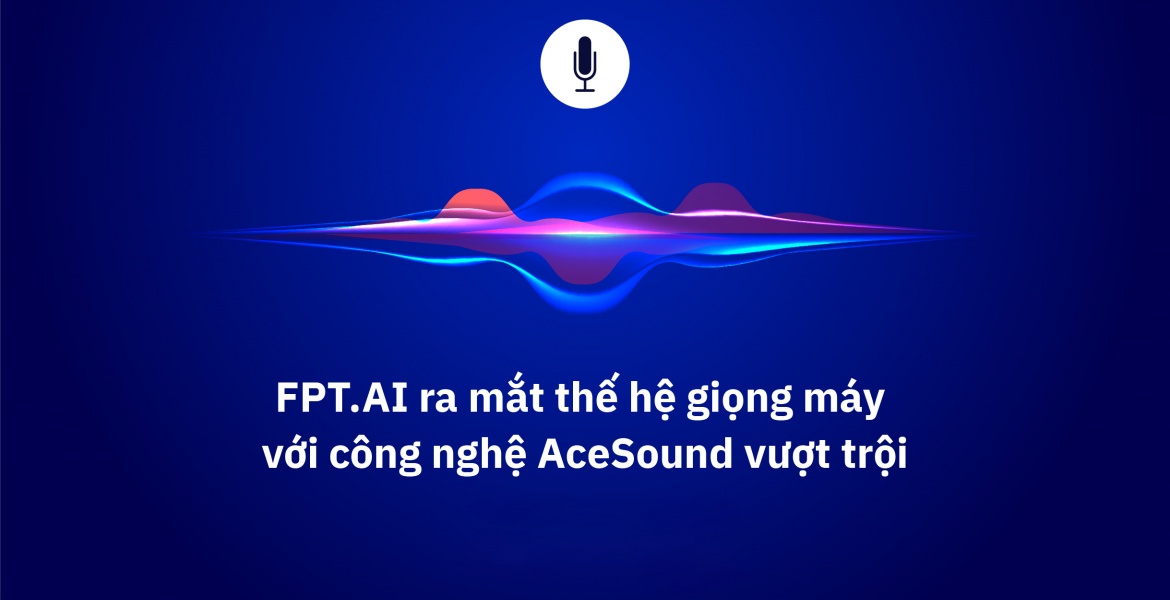 The boom of Artificial Intelligence (AI) has driven new technologies with breathtaking power, including voice synthesis technology used in call center operations. FPT.AI has launched a new generation of Vietnamese-based AI voice, which is outstanding in quality thanks to the most advanced voice tech today - AceSound.
Amplify Vietnamese AI voice by state-of-the-art technology
As the leading company in the AI industry with local understanding, FPT.AI has been researching specifically in natural language processing (NLP) for over a decade. Lately, a series of AI voices based on AceSound technology have been completed and launched by FPT.AI's experts. AceSound technology is developed by FPT.AI to take Text to Speech voice to the next level. FPT.AI stays ahead of the trend of adopting AI voices in virtual agents for customer service call centers, performing primary tasks in the finance - banking industry, easing the burden of human agents, and optimizing operations. Many clients of FPT.AI implementing FPT.AI Virtual Agent for Call Center have impressive outcomes and save more than 17 billion VND each month.
AceSound leverages the most advanced voice synthesis technologies and deep learning. As a result, the computer model can learn thousands of signature characteristics in accents and emotions of human voices. The deep learning model architectures are adjusted specifically for each voice, with specific genders and regions. To make the voices complete and human-like, FPT.AI's engineers and scientists have conducted thousands of tests to analyze samples and continuously improve phonetic quality. FPT.AI focuses on enhancing productivity when using the technology in large systems, including faster processing speed, less computing resources, meeting heavy workload in small infrastructure.
According to the evaluations of FPT.AI's very first partners, the new AceSound voices have accents and emotions that are almost like humans, even better than humans, with the quality of professional MCs. Most listeners cannot distinguish TTS AceSound voice and human voice in the first 10 seconds.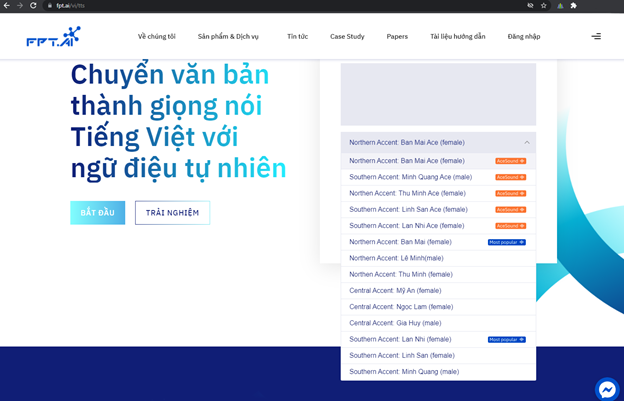 The new generation of AI voice based on AceSound technology by FPT.AI is "in stock".
Famous AI voices by FPT.AI have become viral on social media platforms, including Facebook, Tiktok, Instagram, Youtube, are Ban Mai (Northern female voice), Minh Quang (Southern male voice), Thu Minh (Northern female voice), etc. The new versions now have changes in pitch, speed, pronunciation, intonation to make AceSound voice more smooth and vivid. New voices such as Ban Mai AceSound, Minh Quang AceSound, Thu Minh AceSound, etc. are promised to provide more interesting experiences.
Use cases of AI voices
Applications using voice to communicate with users are increasingly popular around the world. The technology not only is convenient for visually impaired people, people who cannot read or speak, it is also personalized to interact with customers and attract customers in large companies.
Text to Speech technology can be easily used on websites with user interfaces, integrated into mobile apps, or used to produce digital content (videos, podcasts, audio books, ebooks). Publishers and content creators can convert books, newspapers or any written documents into speech with Text to Speech technology in a convenient way, thereby cutting costs and increasing efficiency for the content creating process, freely choosing a voice in any region.
Moreover, the leap of Text to Speech is its integration into automated Virtual Agent for Call Center with signature voices for each brand and industry. Using natural AI voice helps improve service quality of call centers. Through training with AI, voicebots can understand natural language and communicate with humans in real time, bringing a natural atmosphere to their conversations. An AI voice can work as a spokesman of a company or brand, conveying brand messages through a signature voice, creating a unique characteristic for each Vietnamese business in the 4.0 era.
Digital voice, or AI voice, is an essential technology in the future due to its potential to be adopted profoundly in many industries, allowing humans to simplify many activities, reduce costs and improve convenience. With continuous development and innovation to create high-quality voices, FPT.AI's AceSound voice promises to spice up user experiences.
New voices based on TTS AceSound are ready to be used on all FPT.AI's channels. Users can create a demo at https://fpt.ai/vi/tts, use developer interface with API Text to Speech at https://console.fpt.ai, or visit user interface with many features at https://voicemaker.fpt.ai. With a few clicks, you can easily convert your text to speech.
-----------------------------------------------
? Experience other products of #FPT_AI at https://fpt.ai/vi
? Address: 7th floor, FPT Tower, 10 Pham Van Bach Street, Cau Giay District, Hanoi
☎ Hotline: 1900 638399
? Email: [email protected]