Call Center
Success story of Home Credit Vietnam and FPT.AI resonates in the prestigious Fintech Magazine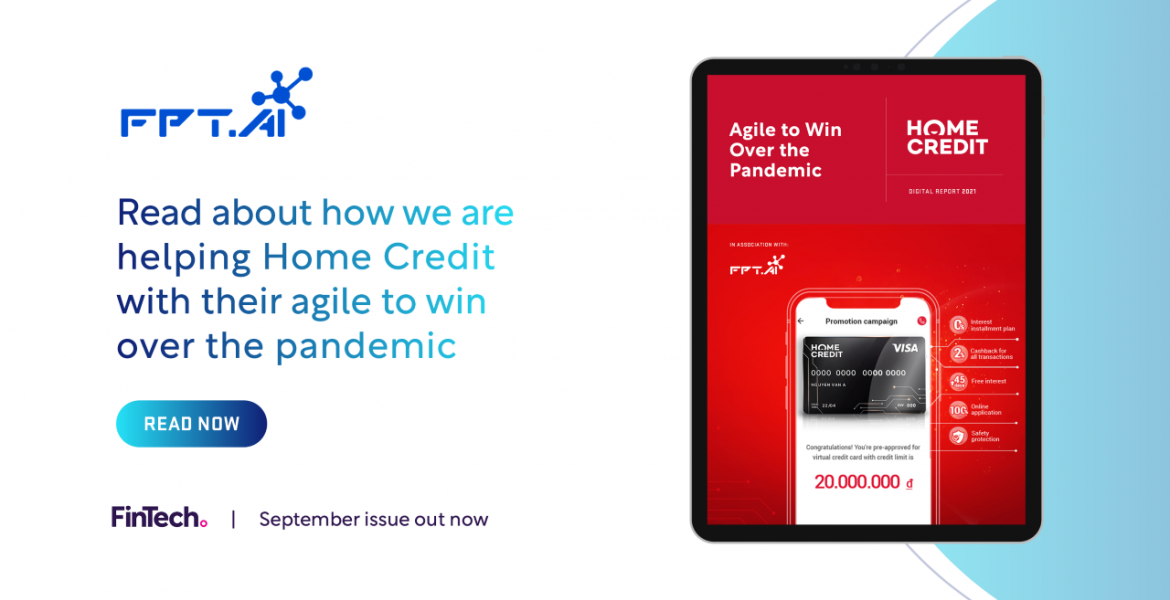 Amplifying productivity and enhancing customer experience during the Covid-19 pandemic, FPT.AI Virtual Agent for Call Center is a highlight of Home Credit's success story in Vietnam. The interview in Fintech Magazine with Anastasia Fokina, Chief OPS and Digital Transformation Officer of Home Credit Vietnam, will reveal many interesting things about this spectacular transformation.
Digital transformation - a run-up to productivity breakthrough
With more than 12 million customers in Vietnam, Home Credit Vietnam has to maintain customer support teams nationwide. On average, they receive thousands of incoming calls and make hundreds of thousands of outgoing calls each day to handle requests, answer queries, and remind credit payment schedule. This huge workload always made Home Credit's call centers overload.
As a European company with extensive experience in consumer finance, when operating in Vietnam, Home Credit soon keeps up with digital transformation and boldly invested in new technologies, such as Big Data and AI. In 2019, FPT Smart Cloud was selected by Home Credit Vietnam to be its strategic partner. The project was supposed to last two years with the goal of building a voicebot to improve the customer engagement capability of Home Credit.
In early 2020, the Covid-19 outbreak abruptly hit and caused unprecedented challenges. Social distancing even put Home Credit's call centers in a more difficult position. So how to maintain customer service and keep it run smoothly during social distancing?
Facing the complicated pandemic, FPT.AI accelerated the project and completed the solution ahead of schedule, quickly implemented it in practice, thereby helping Home Credit Vietnam keep its smooth operation.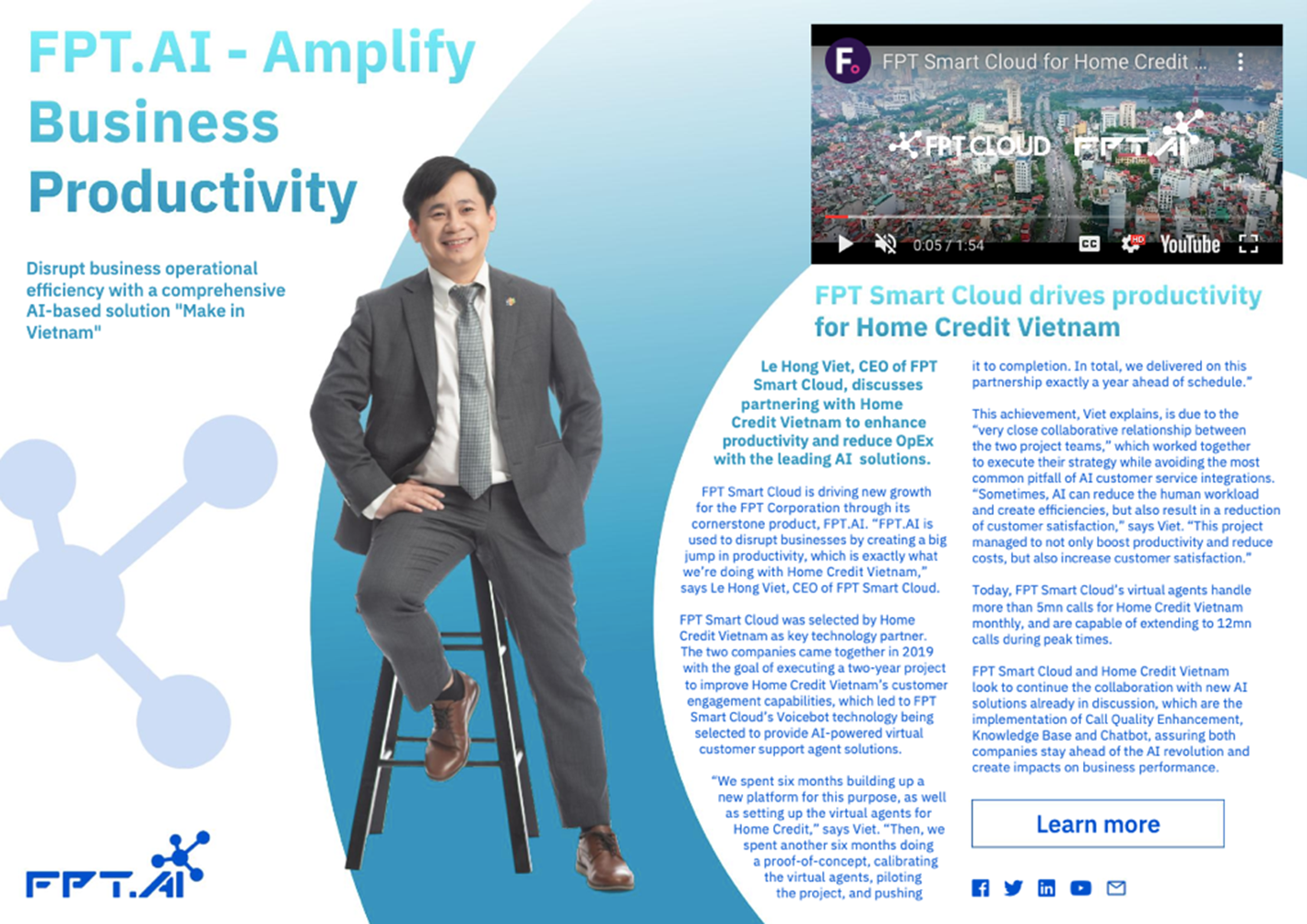 "We spent six months building up a new platform for this purpose, as well as setting up the virtual agents for Home Credit," said Mr.Le Hong Viet, CEO of FPT Smart Cloud. "Then, we spent another six months doing a proof-of-concept, calibrating the virtual agents, piloting the project, and pushing it to completion. In total, we delivered on this partnership exactly a year ahead of schedule."
When the Covid-19 pandemic lasts for so long, millions of businesses were on the brink of bankruptcy, and thousands of businesses have to tighten up their budgets. But a great vision, the calculative boldness in investment, and the sharpness in adopting state-of-the-art technologies helped Home Credit overcome the crisis and make a leap.
"Human" and Machine" collaborate to win the hearts of customers
After one year of working, Home Credit Vietnam's Virtual agent for call center has achieved many impressive results:
🔹⁠ Automatically make 5 million calls per month
🔹⁠ Reduce operating cost by 50%
🔹⁠ Success call rate reaches 98%
🔹⁠ Customers rate satisfaction 4.5/5
In the beginning, Home Credit Vietnam's Virtual agent for call center made more than 200,000 calls each month. Today, this number increases by 25 times to 5 million calls monthly and can reach 12 million calls in busy months.
Mr.Le Hong Viet noted: "Sometimes, AI can reduce the human workload and create efficiencies, but also result in a reduction of customer satisfaction. This project managed to not only boost productivity and reduce costs but also increase customer satisfaction." The most convincing evidence is that the satisfaction with Home Credit's Virtual agent for the call center is rated highly with a 4.5/5 score. Customers are speedily provided information about payment, insurance, and financial opportunities, as well as pleasant experiences with Home Credit's customer service.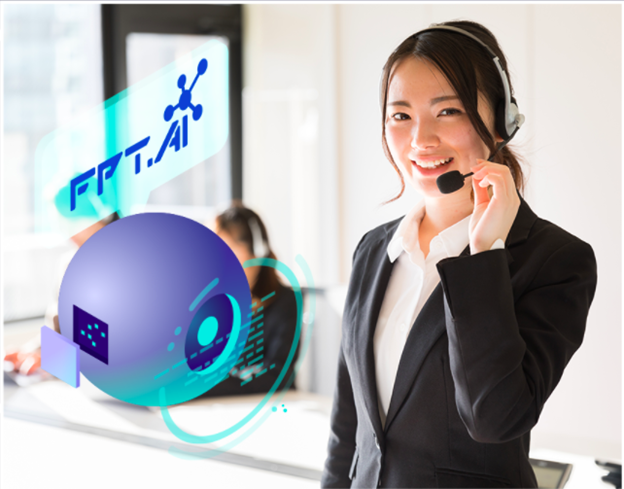 Witnessing good results and effects when implementing FPT.AI Virtual Agent for Call Center, Ms.Anastasia Fokina - COO of Home Credit Vietnam explained: "It's what I call the synergy effect. One plus one equals not two, but three. By connecting Home Credit's scale and innovative risk approach with FPT's operations and technology, we created one of the best customer experiences on the market."
Home Credit Vietnam and FPT.AI's effort to collaborate and grow has created value in operations, cost optimization, and customer experience during such a hard time of Covid-19. Moreover, the success story of Home Credit Vietnam adopting Artificial intelligence, accompanied by FPT.AI, has resonated in the world financial market, opening the door of potential cooperation in the future.
FPT Smart Cloud and Home Credit Vietnam are looking forward to our future projects, including Call Quality Enhancement, Knowledge Base, and Chatbot, to ensure that both of us are pioneers in the AI revolution. And together we will create a breakthrough in efficiency, take strong steps forward and get international reach.
----------------------------------
👉 Experience other products of #FPT_AI at https://fpt.ai/vi
🏬 Address: 7th floor, FPT Tower, 10 Pham Van Bach Street, Cau Giay District, Hanoi///3rd floor Pijico Tower, 186 Đien Bien Phu Street, Ward 6 District 3, Ho Chi Minh City
☎ Hotline: 1900 638399
📩 Email: support@fpt.ai