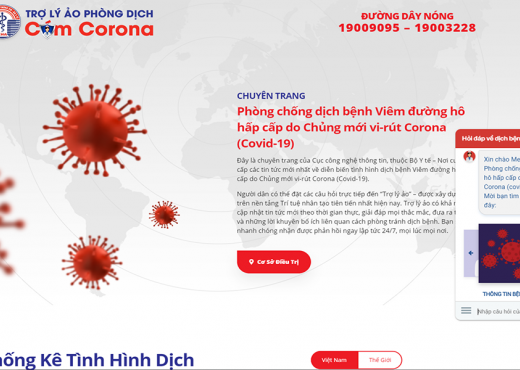 06.03.2020
On January 31, 2020, WHO officially announced the coronavirus outbreak in China and other countries as a Public Health Emergency of International Concern. Immediately, Vietnam Ministry of Health had employed various methods to counter the disease, which may incur an outbreak at any time. Among those, one of the most important tasks is to bring quick and accurate situational updates to citizens to prevent public panic as a consequence to fake news. FPT Corporation had had the honor to accompany the Electronic Health Administration – Ministry of Health in building the Covid-19 prevention virtual assistant, and had finished 90% of its work in only 2 days.

So, how was the Covid-19 prevention virtual assistant so quick?
Read more
Call Center
Along with the modern science-technology flow that are constantly transforming the world, call centers are also joining the eventual trend of digital transformation. Under the development of Artificial Intelligence, call center's AI virtual assistants are born, and are quickly becoming optimized solutions for businesses. With the unlimited potential that comes with AI, smart call centers will guarantee businesses with breakthroughs and mastery of their own future.


Call Center
At the moment, Vietnam businesses generally utilize call centers to build professionalism in their customer care system. This is due to the need to develop the business and increase revenue, and frequent interactions between the business and their customers and partners play a crucial part in achieving that goal.
Call Center
On January 9, 2019, FPT.AI artificial intelligence product will be present at the Smart Space Exhibition at the Tech Award 2018 held at White...